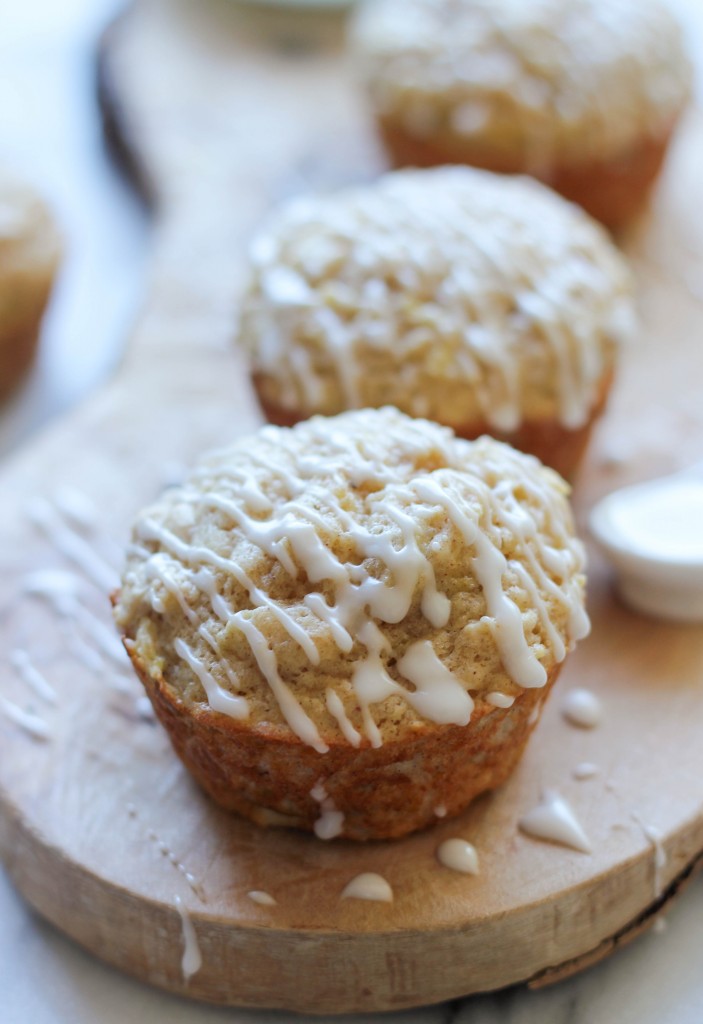 Vanilla Glazed Apple Cinnamon Muffins
ma3ti, 6 days ago
0
3 min

read
9
Moist, fluffy muffins chockfull of apple cinnamon and finished with a vanilla glaze – the absolute perfect muffin to start your mornings with!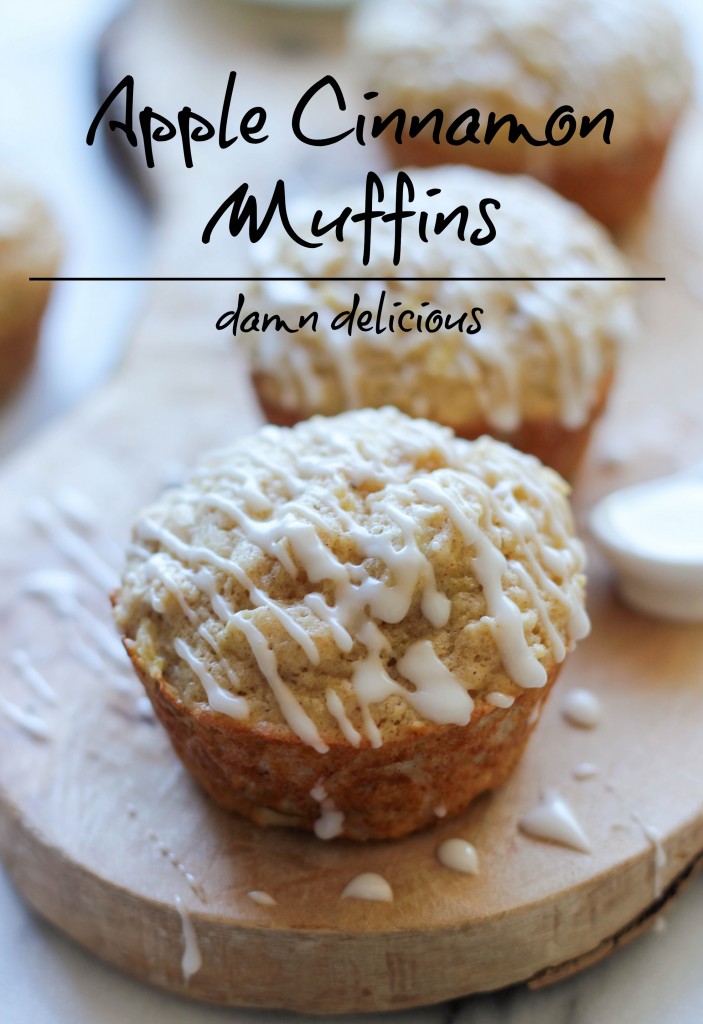 Happy Friday! I'm actually en route to Seattle right now for IFBC, getting up at the crack of dawn and trying to catch a 6:25AM flight! But aside from not having an ounce of sleep last night, I'm incredibly excited about this trip. I get to room with my dear friend, Jen over at Savory Simple, and it's also my first time in Washington so I'm stoked to explore the city, like Pike Place Market and the Space Needle and… Well, I guess that's all on my list for now. If you have any suggestions on places to visit in Seattle, let me know – I'll be there until Sunday!
But before I make my trek through the new city, I just have to share a new feature that is now part of Easy recipes. See, I've partnered up with ZipList so you can easily view all of your saved recipes in one convenient location – your very own personalized recipe box! And these aren't just recipes from Easy recipes – you can save recipes from your other favorite food blogs too!

Now to save a recipe from Easy recipes, simply click on the pink "Save Recipe" button.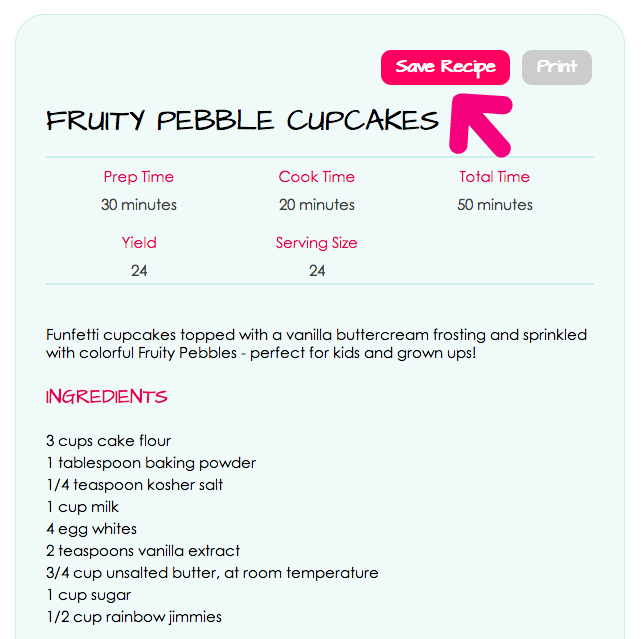 From there, you can either "Add to Recipe Box" or "Add to Shopping List and Recipe Box".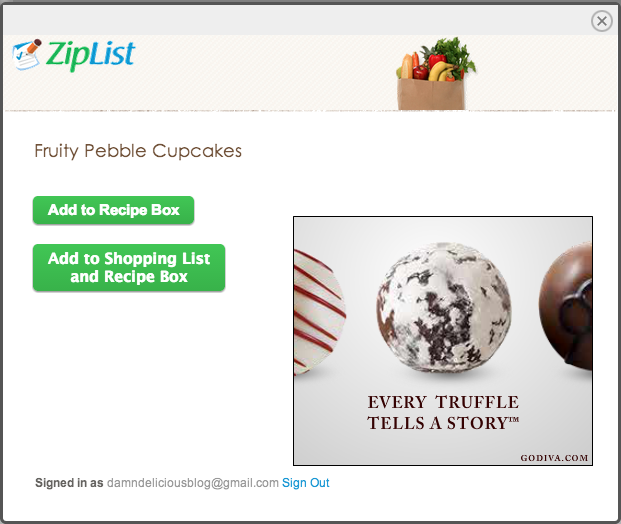 My Fruity Pebble Cupcakes is now saved to your Recipe Box!
You can also add it to you Shopping List, leaving you with a categorized grocery list, even displaying grocery deals in your neighborhood! How convenient is that?!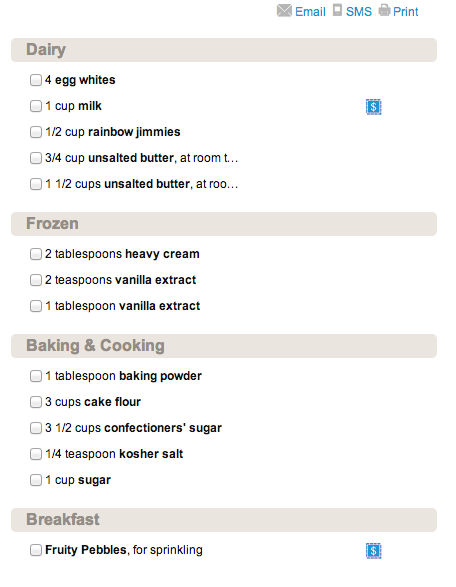 With the help of ZipList, I hope that saving recipes and organizing your grocery list becomes a bit easier for you. For me personally, before I discovered ZipList, I used to have an excel document, a word document, bookmarks and Evernote to keep track of all of my favorite blogger recipes, which ultimately became very disorganized. But now I can easily use one source for all of my favorites, and grocery shopping has never been any easier, especially for someone like me who visits the store 3-4 times a week!
As a side note, there will still be some recipes that will not display the "Save Recipe" button. I'm trying my best to format all 500+ recipes so please bear with me in this grueling process. If you have any suggestions or questions, feel free to let me know!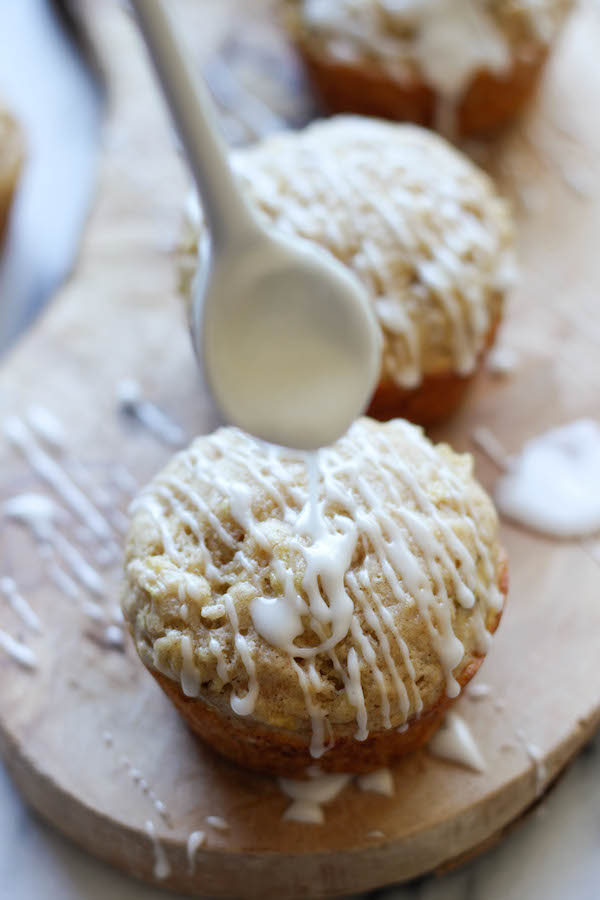 Now about these glazed muffins. These babies are light, fluffy and chockfull of apple cinnamon. And to finish it off, I just had to drizzle a vanilla glaze – that's the only way to have a muffin, right?
½

cup

all-purpose flour

1

teaspoon

baking powder

½

teaspoon

cinnamon

¼

teaspoon

nutemg

¼

teaspoon

salt

¼

cup

milk

2

tablespoons

unsalted butter

,

melted

2

tablespoons

sugar

¼

cup

grated apple

1

large egg

¼

teaspoon

vanilla extract
For the glaze
¼

cup

confectioners' sugar

1

teaspoon

milk
Preheat oven to 350 degrees F. Coat a standard muffin tin with nonstick spray; set aside.
In a medium bowl, combine flour, baking powder, cinnamon, nutmeg and salt.
In a large glass measuring cup or another bowl, whisk together milk, butter, sugar, apple, egg and vanilla. Pour mixture over dry ingredients and stir using a rubber spatula just until moist.
Scoop the batter evenly into the muffin tray. Place into oven and bake for 13-15 minutes, or until a tester inserted in the center comes out clean.
To make the glaze, combine confectioners' sugar and milk. Whisk until smooth. If the glaze is too thin, add more confectioners' sugar as needed.
When the muffins are done, cool for 10 minutes and drizzle the glaze on each muffin.
Allow glaze to set before serving.
Related posts