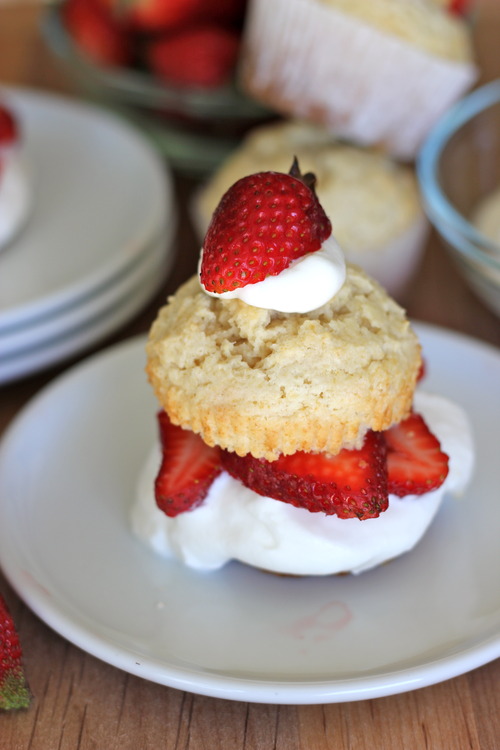 I hope everyone had a wonderful weekend. Jason and I went to a BBQ where I not only ate way too much but I also got severely sun burned. I was also smart enough to wear short-shorts so now half my thighs are painfully red. It's a great look on me.
Anyway, enough of my burning skin sensation. Let's talk about these awesome muffins.
This week's installment of Muffin Monday is definitely one of my favorites. I mean have you ever met someone who didn't like strawberry shortcake? I was seriously looking forward to making these all week so when I finally did get a chance to make them, waiting for these muffins to cool to slather on the whipped cream was excruciatingly painful. But when the time came, Jason and I sat down together to devour these muffins like there was no tomorrow. But seeing that I forgot the forks, I went back to the kitchen to grab one for me and Jason but by the time I got back, Jason had already finished his!
Yeah, I think it's safe to assume that he liked it.
After all, how can anyone not like a buttery, shortcake muffin filled with freshly-made whipped cream and fresh strawberries? It's an excuse to have actual cake for breakfast guilt-free!
So here's how you make this:
As always, we'll start with the dry ingredients.
Next we'll throw in some cold butter cubes.
Using a pastry cutter, cut the butter into the flour mixture until it resembles coarse crumbs. Be sure to work fast here so your butter doesn't get too softened.
Now we'll combine the wet ingredients – half and half, egg and vanilla.
We'll pour that into the flour mixture and give it a good stir until it's just combined.
Then we'll divide this up into the muffin tray and bake it for about 16-18 minutes. Be sure to let these guys cool before assembling them.
Now let's make the whipped cream. All that needs to be done is to whip the heavy cream, sugar and vanilla until beautiful soft peaks form. It should take about 3 minutes.
When the muffins are all cooled down, split them in half and dollop some whipped cream along with some fresh strawberries before topping them off with the muffin top.
Now it's time to eat!
Muffin Monday is an initiative by Baker Street. A culinary journey of sharing a wickedly delicious muffin recipe every week. Drop in a quick line to join her on her journey to make the world smile and beat glum Monday mornings week after week.
Strawberry Shortcake Muffins (adapted from Seasons & Suppers):
Yields 11 muffins
INGREDIENTS:
2 cups all-purpose flour
3/4 cup sugar
2 teaspoons baking powder
1/2 cup (1 stick) unsalted butter, cut into bits
1 cup half and half
1 large egg
1 teaspoon vanilla extract
Whipped cream, for serving
Sliced strawberries, for serving
DIRECTIONS:
Preheat the oven to 400 degrees F. Line a 12-cup standard muffin tin with paper liners; set aside.
In a large bowl, combine the flour, sugar and baking powder.
Add the cold butter and toss to coat, using your fingers or pastry cutter to work the butter into the dry ingredients until it resembles coarse crumbs.
In a large glass measuring cup or another bowl, whisk together the half and half, egg and vanilla.
Pour mixture over dry ingredients and stir using a rubber spatula just until moist.
Scoop the batter evenly into the muffin tray.
Place into oven and bake for 16-18 minutes, or until a tester inserted in the center comes out clean.
To assemble, cut each cupcake in half horizontally. Top with a generous dollop of whipped cream, fresh strawberries and then the muffin top. Serve immediately or chill until ready to serve.
Homemade Whipped Cream (adapted from Epicurean Mom):
Yields 4 cups
INGREDIENTS:
2 cups heavy cream
2 tablespoons sugar
1/4 teaspoon vanilla extract
DIRECTIONS:
In the bowl of an electric mixer fitted with the whisk attachment, beat the heavy cream, sugar and vanilla until soft peaks form, about 2-3 minutes.
Related posts