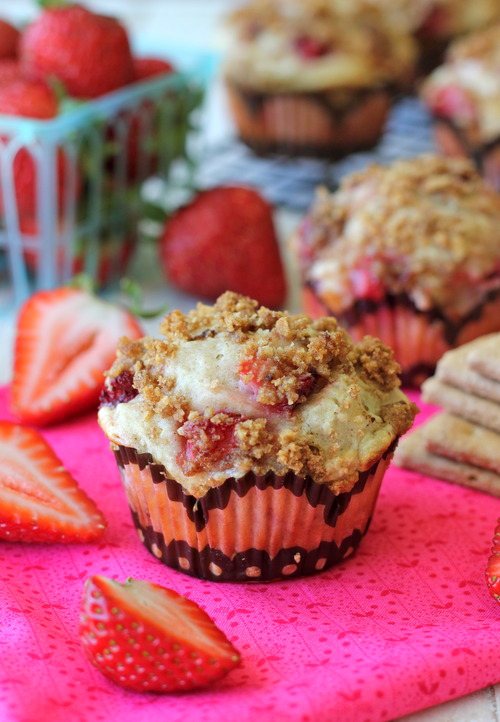 Strawberry Cheesecake Graham Cracker Muffins
ma3ti, 2 weeks ago
0
3 min

read
11
Greetings from San Francisco! I made a short trip out here for the long Labor Day weekend to help Jason get settled into his new place. We ran errands all day, stocking up at Costco and Target, my two favorite places in the world. Then we came home and wrote Jason's name on everything we bought. The beauty of having housemates, right?
Anyway, I know it's Labor Day and all and I should have some sort of BBQ recipe but since it's #MuffinMonday, I have some awesome muffins for you guys instead. They're filled with chunks of graham crackers, cheesecake filling, fresh strawberries and of course, a graham cracker crumb topping. Yes, it's a cheesecake in muffin form, which gives you the BEST excuse to have cake for breakfast. Enjoy!
Here's how you make this:
Let's first make the awesome graham cracker crumb topping. You can throw some graham crackers into a food processor and pulse a couple of times until they start to resemble crumbs.
Next, we'll make the cheesecake filling by whisking together some softened cream cheese, sugar, egg and vanilla. If the cream cheese is softened enough, you don't need a mixer for this. I popped mine in the microwave for about 20-30 sec and it was just fine.
Now let's make the muffin batter by combing the dry ingredients in a large bowl.
Then comes the wet ingredients – milk, oil, egg and vanilla.
As always, we'll pour the wet to dry ingredients and use a rubber spatula to make sure that we don't overwork the batter.
Now let's assemble the muffin mixture into the tray in the following order:
Spoonful of batter
Few pieces of strawberries
About 1 tablespoon cheesecake filling
More batter to cover the filling
Few pieces of strawberries
Sprinkle of crumb topping
Easy enough, right?
And finally, we'll pop these babies into the oven for about 15-17 minutes.
Let them cool on a wire rack before digging into these bad boys. The cheesecake filling is too hot to eat right away. Bummer, I know.
Muffin Monday is an initiative by Baker Street. A culinary journey of sharing a wickedly delicious muffin recipe every week. Drop in a quick line to join her on her journey to make the world smile and beat glum Monday mornings week after week.
One year ago: Pumpkin Spice Pancakes
2

cups

all-purpose flour

1

cup

crushed graham crackers

¼

cup

sugar

1

teaspoon

cinnamon

1

tablespoon

baking powder

½

teaspoon

salt

1

cup

milk

⅓

cup

canola oil

1

large egg

1

teaspoon

vanilla extract

½

cup

diced strawberries
For the topping graham cracker crumb topping
¼

cup

graham cracker crumbs

2

tablespoons

brown sugar

1

tablespoon

unsalted butter

,

melted

½

teaspoon

cinnamon
For the cream cheese filling
4

ounces

cream cheese

,

softened

¼

cup

sugar

2

tablespoon

beaten egg

1

teaspoon

vanilla extract
Preheat the oven to 400 degrees F. Line a 12-cup standard muffin tin with paper liners; set aside.
To make the crumb topping, combine the graham cracker crumbs, brown sugar, butter and cinnamon; set aside.
To make the cheesecake filling, whisk together the cream cheese, sugar, egg and vanilla; set aside.
In a large bowl, combine the flour, graham crackers, sugar, cinnamon, baking powder and salt.
In a large glass measuring cup or another bowl, whisk together the milk, oil, egg and vanilla.
Pour mixture over dry ingredients and stir using a rubber spatula just until moist.
Scoop a spoonful of batter evenly into the muffin tray. Sprinkle with strawberries and drop 1 tablespoon cheesecake filling. Top with remaining batter to completely cover the filling and more strawberries. Sprinkle with reserved topping, using your fingertips to gently press the crumbs into the batter.
Place into oven and bake for 15-17 minutes, or until a tester inserted in the center comes out clean.
Remove from oven and cool on a wire rack.
Related posts