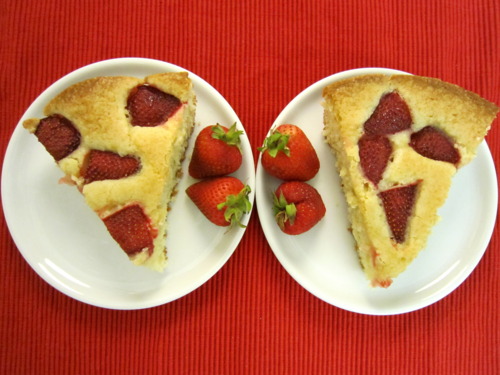 Strawberry Cake – Easy recipes
ma3ti, 6 days ago
0
2 min

read
11
I absolutely love this recipe. It's simple to make, doesn't involve any frosting, and you can customize it completely since the cake could be a base for anything. The cake itself was delightfully buttery and fluffy and you could top it off with practically anything: strawberries, bananas, blueberries, chocolate chips… you name it. I can't wait to create my own concoction of strawberries, white chocolate chips, and maybe some almond slices. Mmmmm.
Strawberry Cake (adapted from Martha Stewart):
Yields 8 servings
6 tablespoons unsalted butter, softened, plus more for pie plate
1 1/2 cups all-purpose flour
1 1/2 teaspoons baking powder
1/2 teaspoon salt
1 cup plus 1 tablespoon sugar
 1 large egg
1/2 cup milk
1 teaspoon pure vanilla extract
1/2 pound strawberries, hulled and halved
Preheat oven to 350 degrees F. Butter a 10-inch pie plate. (I only had a 9-inch pie plate, which worked out fine.)
Sift flour, baking powder and salt together into a medium bowl.
Put butter and 1 cup sugar in the bowl of an electric mixer fitted with the paddle attachment. Mix on medium-high speed until pale and fluffy, about 3 minutes.
Reduce speed to medium-low; mix in egg, milk and vanilla.
Reduce speed to low; gradually mix in flour mixture.
Transfer batter to buttered pie plate.
Arrange strawberries on top of batter, cut sides down and as close together as possible. Sprinkle remaining 1 tablespoon sugar over berries.
Bake cake 10 minutes. Reduce oven temperature to 325 degrees F. Bake until cake is golden brown and firm to the touch, about 50 minutes.
Let cool in pie plate on a wire rack. Cut into wedges. Cake can be stored at room temperature, loosely covered, up to 2 days.
Related posts