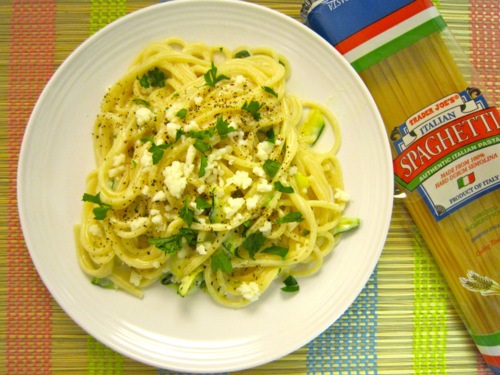 Spaghetti Alfredo with Zucchini Ribbons
ma3ti, 6 days ago
0
2 min

read
11
Zucchini ribbons just sounded so amazing so I couldn't wait to try out this recipe. The alfredo sauce turned out great since it wasn't too thick and was perfectly creamy and flavorful. But the best part of this dish was that it's one of the healthiest dinners ever. It's only 500 calories per serving (2 cups of pasta mixture) and it's an excellent source of calcium and fiber. It also tasted amazing. You just can't beat that!
Spaghetti Alfredo with Zucchini Ribbons (adapted from Ellie Krieger):
Yields 2 servings
2 tablespoons olive oil
2 cloves garlic, minced
1 medium zucchini (about 8 ounces)
8 ounces spaghetti pasta, preferably whole wheat
1 tablespoon all-purpose flour
1 cup cold low-fat milk
1/2 cup evaporated skim milk
1/2 teaspoon salt, plus more to taste
3/4 cup freshly grated Parmesan cheese
3 tablespoons finely chopped fresh parsley leaves
Slice the ends off the zucchini and discard. Using a mandolin or with a sharp knife, slice the zucchini lengthwise into very thin slices.
Stack the slices and cut with a knife lengthwise into 1/4 inch-thick ribbons.
Heat 1 tablespoon of oil in a large non-stick skillet over medium heat. Add 1 clove of garlic and cook for 30 seconds. Add zucchini ribbons and cook until tender, stirring occasionally, about 6 minutes. Transfer zucchini to a bowl.
Cook the pasta al dente according to the directions on the package. Ladle out a half cup of pasta water and set aside; drain pasta.
Meanwhile, make the sauce. Stir the flour into the milk until completely dissolved.
Put remaining tablespoon of olive oil in skillet and heat over medium-high heat. Add remaining clove of garlic and cook for 30 seconds. Add flour-milk mixture and cook until mixture begins to boil, stirring constantly. Reduce heat to low and cook, stirring, for 2 minutes more.
Add evaporated milk, salt and cheese.
Cook until cheese is melted, stirring occasionally, about 1 minute. Season with additional salt to taste.
Add pasta, zucchini and 2 tablespoons of parsley to the sauce.
Toss to combine. Add a little of reserved pasta water as necessary to loosen.
To serve, place 2 cups of pasta mixture on each plate and garnish with remaining parsley and favorite cheese, if desired. (I sprinkled mine with mozzarella.)
Related posts