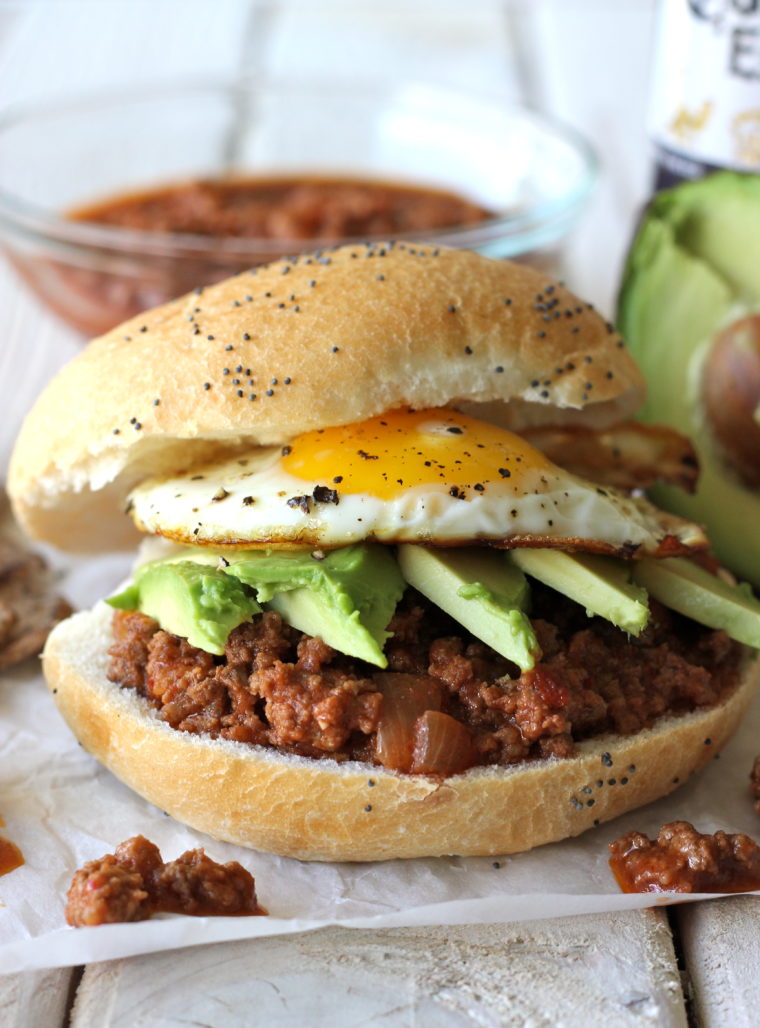 Sloppy Joes with Avocado and Fried Egg
ma3ti, 6 days ago
0
4 min

read
7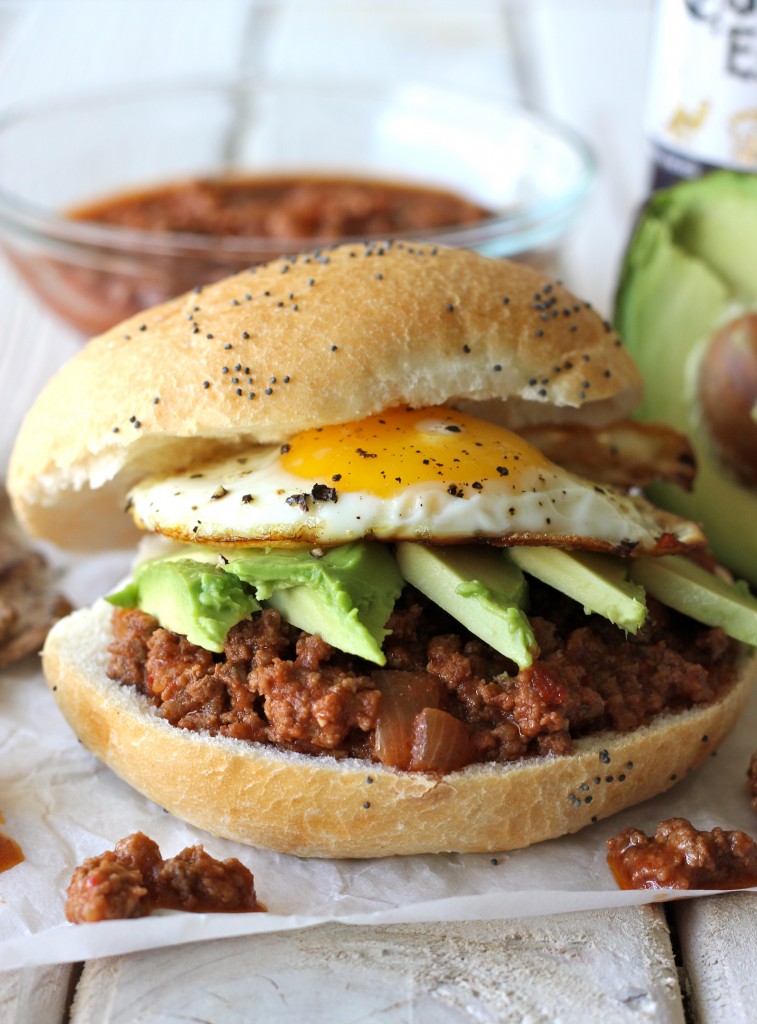 Before I get into these amazing sloppy joes, lets first talk about gym etiquette. I go to the gym 6-7 times a week, but as much as I love doing the elliptical while watching Dexter, it's been getting increasingly annoying to continually go to the gym day after day.
So as you see below, I've made a list of gym rules that I think should be followed by everyone:
1. Please do not wear heavy perfume or cologne. It's so gross to be inhaling that crap.
2. On the other hand, do wear deodorant.
3. Stop looking over your elliptical to see what I'm watching on my iPhone. It's Dexter, not porn.
4. Don't let your 5-6 year old children use up an elliptical, especially when there's people waiting.
5. Don't get on a machine next to me when there's 5 open ones around me.
6. Stop staring at me when I'm doing weights. I know I look ridiculous but just let me be!
That's all I have for now. Anyone like to add anything else?
So there you have it. My gym rant. I'm not saying that I go to the gym all perfect and smelling like roses but I am definitely courteous of my surroundings. I just hope other people can do the same because all I really want to do is to go to the gym without having to socialize with anyone, work out and go home.
Okay moving on to something more pleasant.
Sloppy joes. We all love them right? I mean how can anyone contest a ground beef mixture simmered in a super flavorful tomato base sauce? And to top that off with avocado and a fried egg makes it absolute perfection.
When I made this sandwich, I really wasn't expecting to finish the entire thing but once I took that first bite, I knew I would devour the whole sandwich and possibly get seconds. Best of all, the sloppy joes are freezer-friendly so you can double the batch (that's what I did) and freeze the leftovers so you can have sloppy joes whenever you want!
So here's how you make this:
Let's first start with the tomato-base sauce by combining tomato sauce, brown sugar, red wine vinegar, Worcestershire, Dijon, red pepper flakes and 1/4 cup water. Once that's combined, go ahead and set that aside.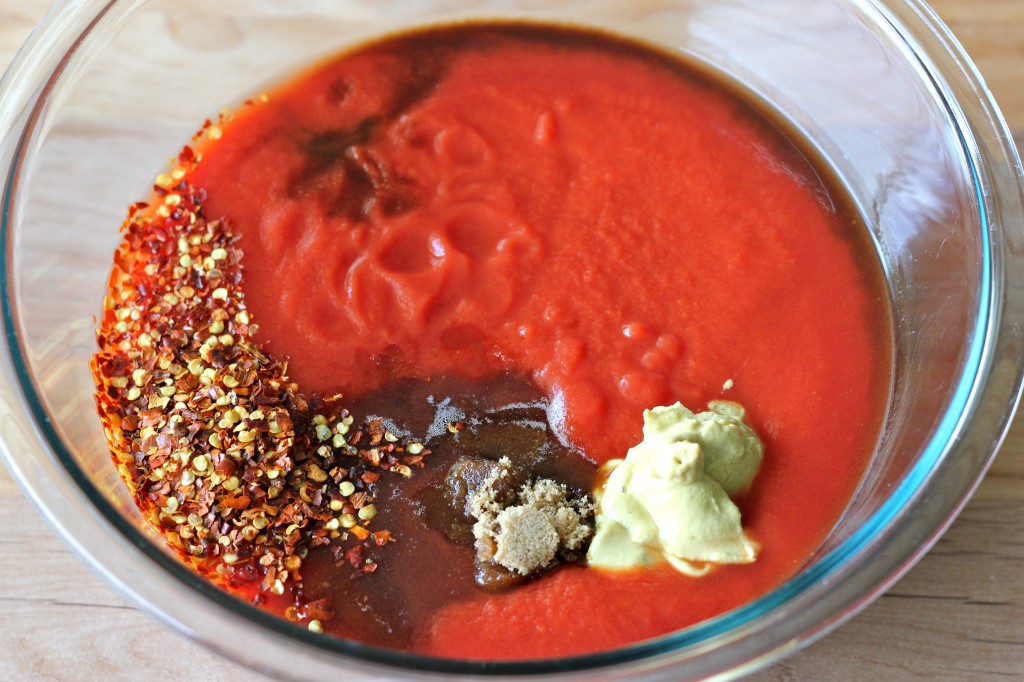 Then we'll sweat out some onions and garlic for about 5 minutes or so.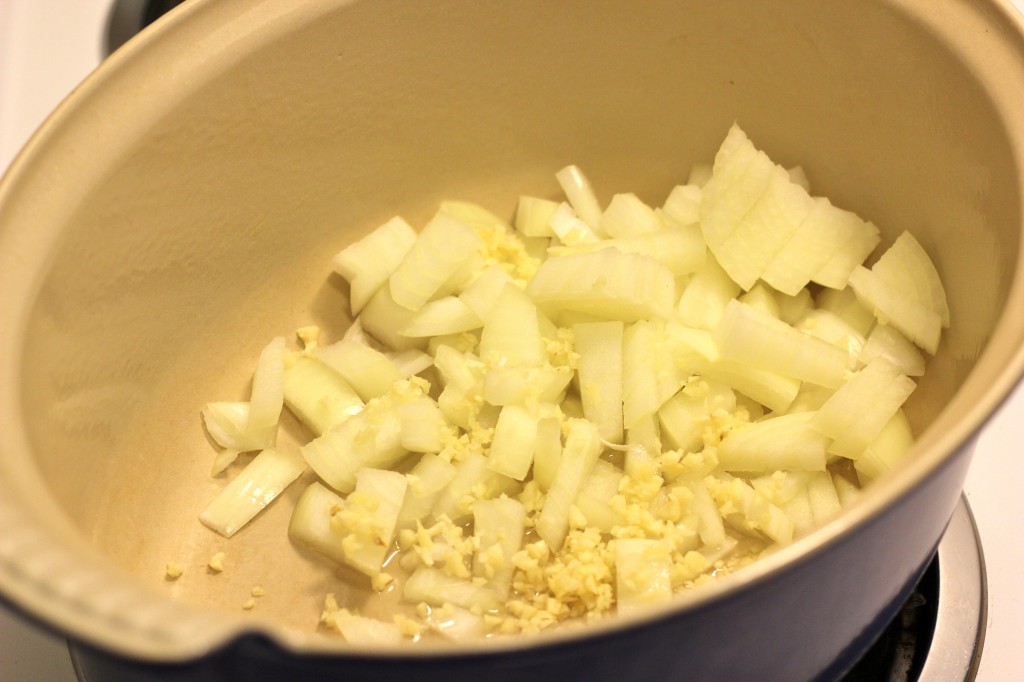 In goes the chili powder…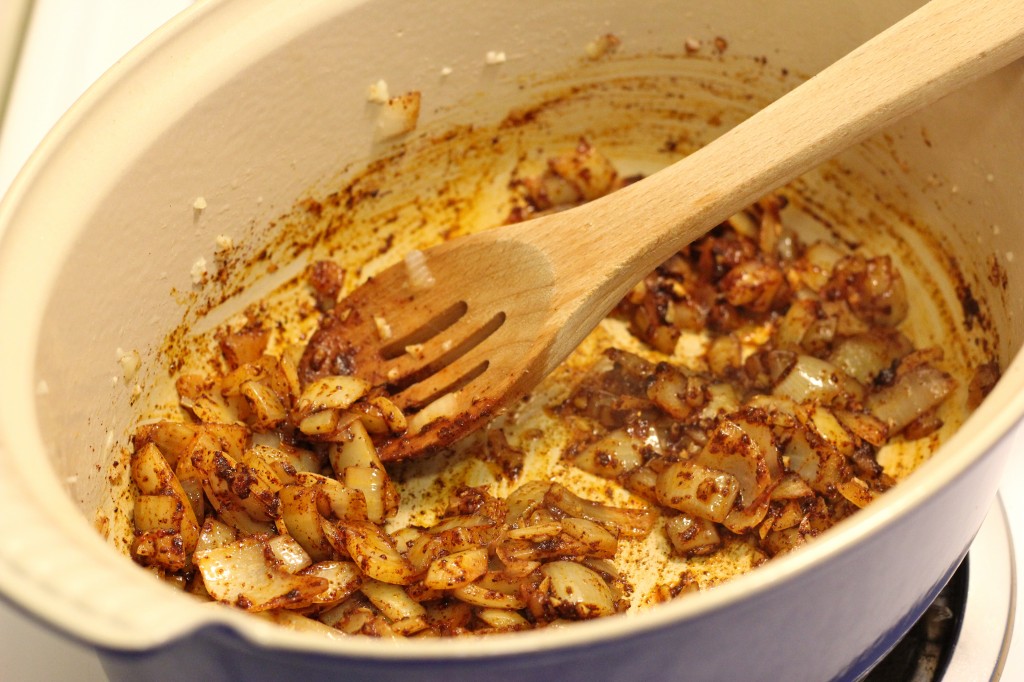 Then the beef, breaking it up as it cooks (a potato masher is perfect for this). Don't forget to season with salt and pepper.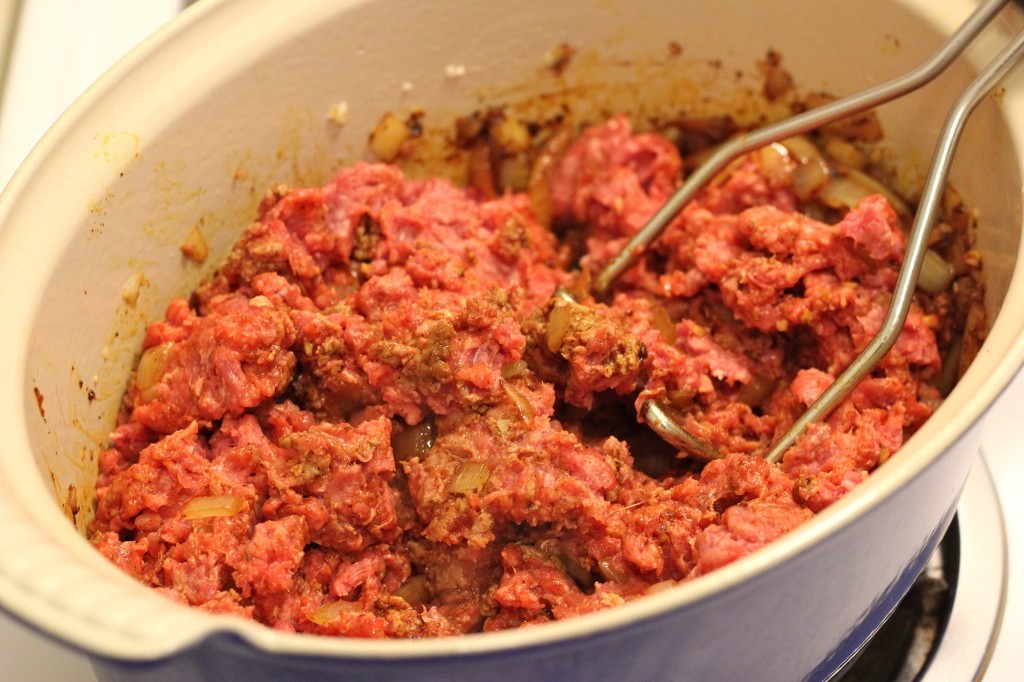 It's fine if the meat doesn't brown completely. It'll still get a chance to cook down later.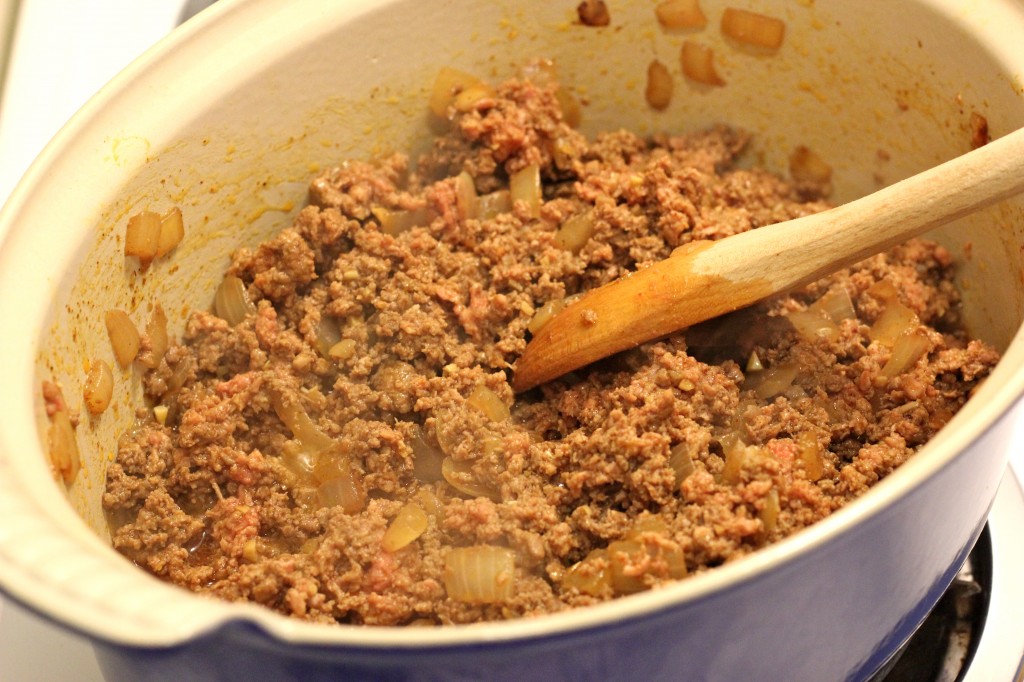 Next we'll add that tomato sauce mixture we made earlier before stirring in the tomato paste.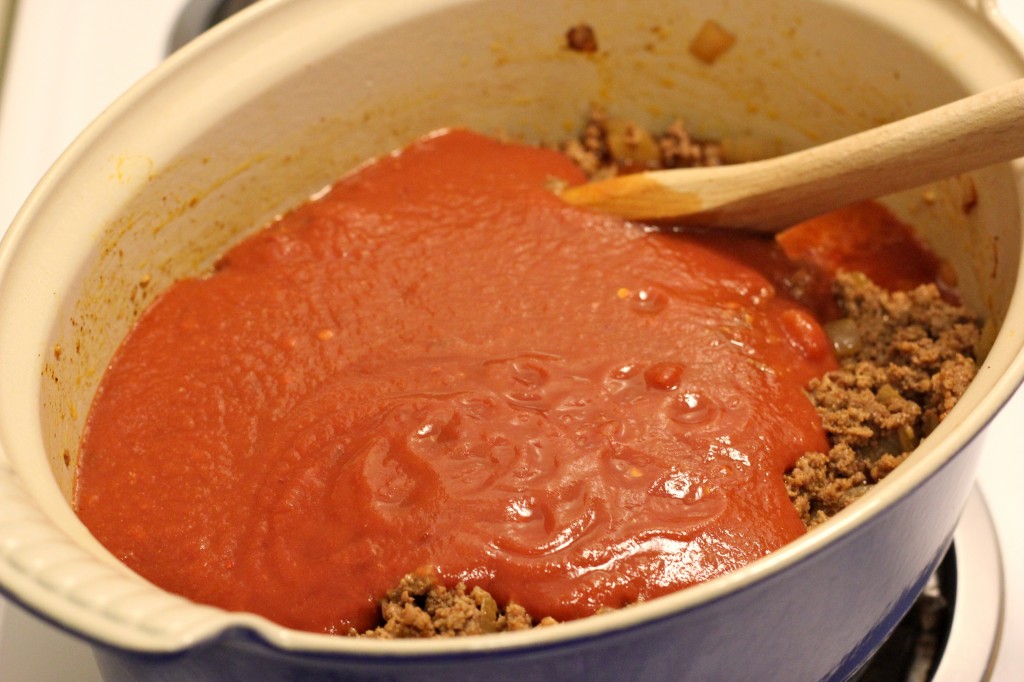 And we'll let it simmer for about 10 minutes or so until it gets nice and thick.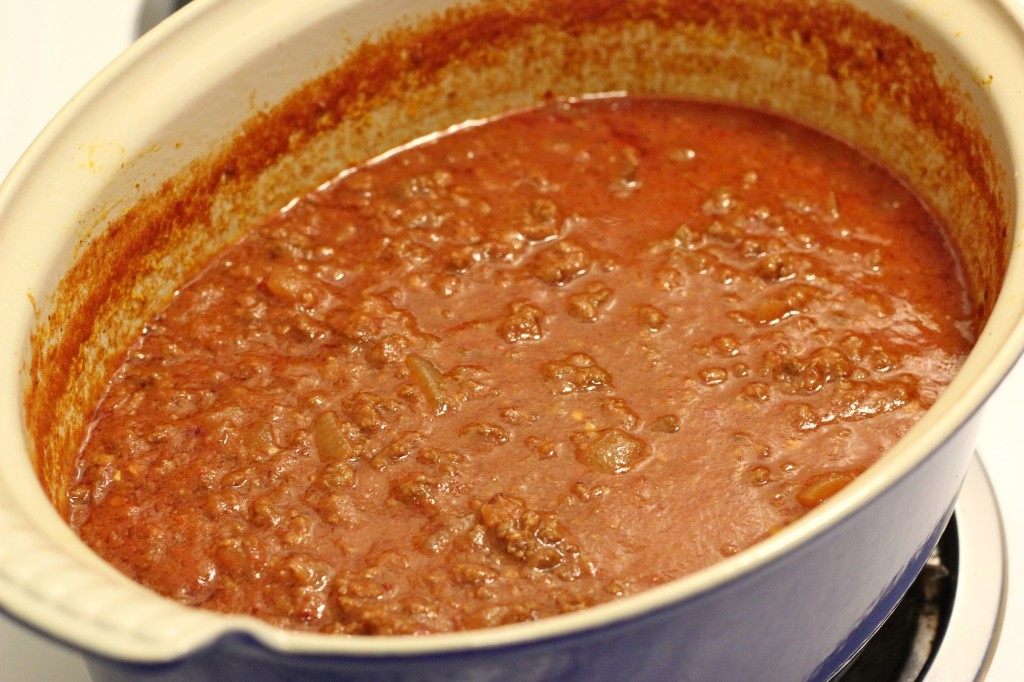 Once that thickens up, go ahead and serve this bad boy on a hamburger bun (I used a lovely poppy seed bun) topped with sliced avocado and a fried egg. You can thank me later!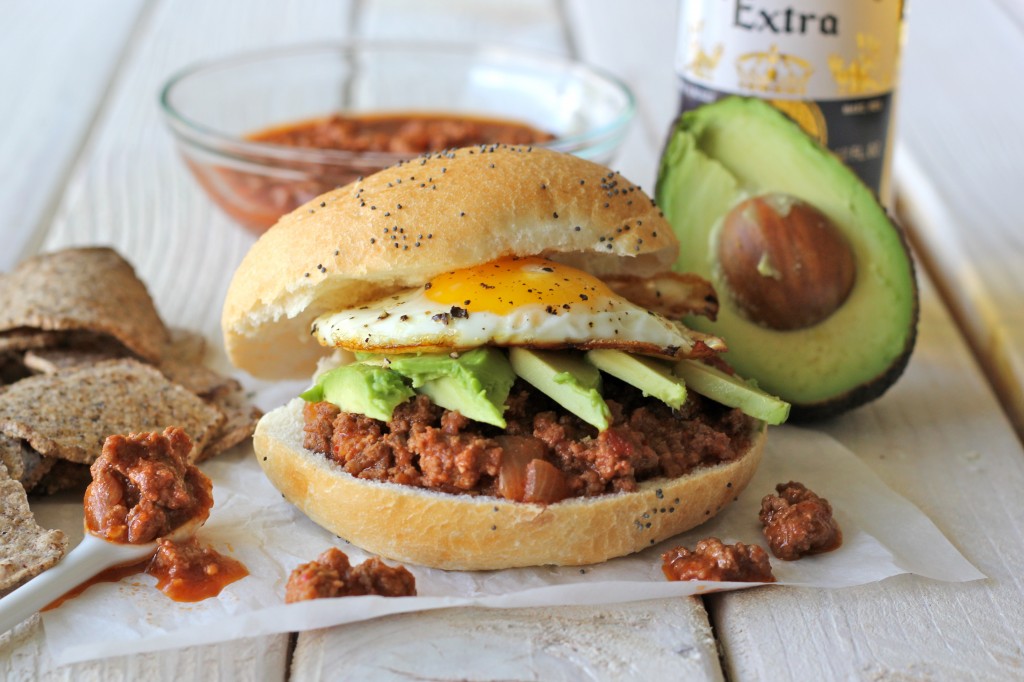 One year ago: Allspice Crumb Muffins
Sloppy Joes with Avocado and Fried Egg (adapted from Ezra Pound Cake):
Yields 3-4 servings
INGREDIENTS:
2 tablespoons vegetable oil
1 small onion, diced
2 cloves garlic, minced
2 teaspoons chili powder
1 pound ground sirloin
Kosher salt and freshly ground black pepper, to taste
4 hamburger buns, toasted, for serving
4 fried eggs, for serving
Sliced avocado, for serving
For the tomato sauce:
1 (15-ounce) can tomato sauce
3 tablespoons dark brown sugar
1 1/2 tablespoons red wine vinegar
1 tablespoon Worcestershire
1 tablespoon Dijon mustard
1-2 teaspoons crushed red-pepper flakes
2 tablespoons tomato paste
DIRECTIONS:
In a medium bowl, combine tomato sauce, brown sugar, red wine vinegar, Worcestershire, Dijon, red pepper flakes and 1/4 cup water.
Heat vegetable oil in a Dutch oven or large skillet over medium high heat. Add onion and garlic, and cook, stirring occasionally, until translucent, about 5 minutes.Add chili powder, and cook until fragrant, about 1 minute. Add ground sirloin and cook until browned, about 3-5 minutes, making sure to crumble the beef as it cooks. Season with salt and pepper, to taste.
Stir in tomato sauce mixture and then the tomato paste until well combined.
Reduce heat to low; simmer, stirring occasionally, until sauce has thickened and desired consistency is reached, about 10 minutes.
Serve sloppy joes on hamburger buns with a fried egg and avocado, if desired.
Related posts