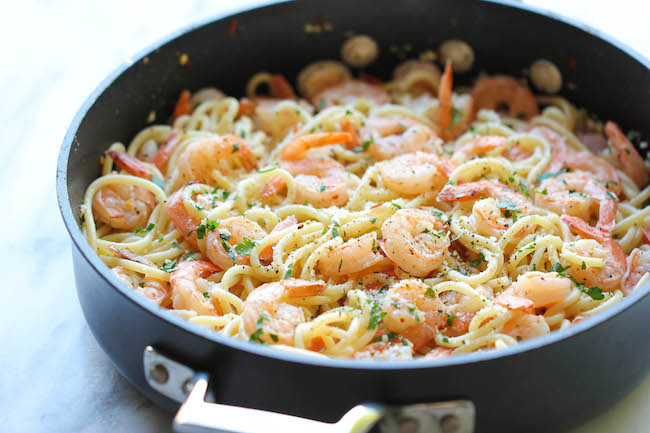 Shrimp Scampi with Angel Hair
ma3ti, 2 weeks ago
0
2 min

read
13
I'm always a bit skeptical when it comes to cooking with white wine because I had a really bad first experience with it. But when I came across this recipe, I decided to face my fears and give it another try. This time around, I didn't use the two buck chuck from Trader Joe's and instead, used a moderately expensive Sauvignon Blanc. Apparently, the rule is to cook with a wine that you would actually like to drink and surprisingly, I was able to drink this wine without a disgusted look on my face.
I really liked that the pasta was super moist and flavorful. You could really taste the smokiness of the shallots and garlic combine with the lemony kick to it. And all these ingredients came together to create a rich texture as I scooped it up on my fork. You could pair this dish with the wine that you cooked with along with some veggies (I roasted some asparagus and drizzled it with balsamic vinegar) and garlic toast, creating a fancy meal without spending too much.
Shrimp Scampi with Angel Hair (adapted from Tyler Florence):
Yields 2 servings
8 oz linguini
2 tablespoons butter
2 tablespoons extra virgin olive oil, plus more for drizzling
1 shallot, finely diced
2-3 cloves garlic, sliced
Pinch red pepper flakes
10 large shrimp, about 1/2 pound, peeled and deveined
Salt and ground black pepper
1/4 cup dry white wine
1/2 lemon, juiced
2 tablespoons finely chopped parsley leaves
For the pasta, put a large pot of water on the stove to boil. When it has come to a boil, add a couple of tablespoons of salt and the angel hair. Stir to make sure the pasta separates. When the water returns to a boil, cook for about 2-3 minutes or until the pasta is not quite done. Drain the pasta reserving 1/2 cup of water.
Meanwhile, in a large skillet, melt 1 tablespoon butter in 1 tablespoon olive oil over medium-high heat. Saute the shallots, garlic, and red pepper flakes until the shallots are translucent, about 3-4 minutes.
Season the shrimp with salt and pepper; add them to the pan and cook until they have turned pink, about 2-3 minutes. Remove the shrimp from the pan; set aside and keep warm.
Add wine and lemon juice and bring to a boil. Add 1 tablespoon butter and 1 tablespoon oil. When the butter has melted, return the shrimp to the pan along with the parsley and cooked pasta and reserved pasta water. Stir well and season with salt and pepper. Drizzle over a bit more olive oil and serve immediately.
Related posts