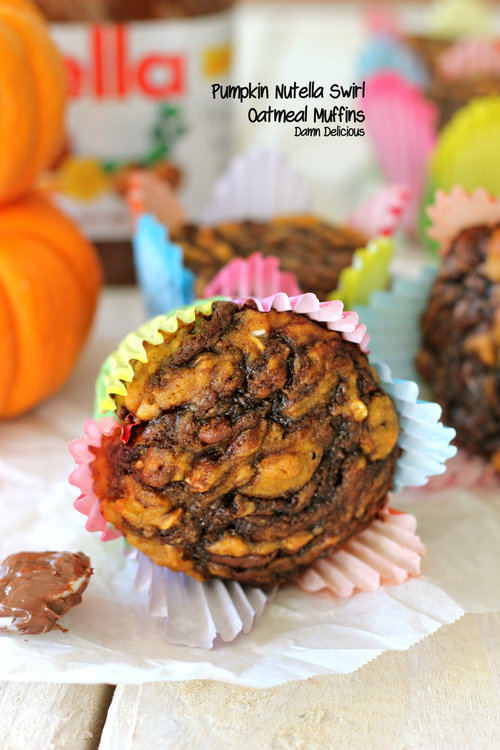 Pumpkin Nutella Swirl Oatmeal Muffins
ma3ti, 2 weeks ago
0
2 min

read
12
I hope you all had a wonderful Thanksgiving! I had the best Thanksgiving of all where I was surrounded by such a loving family and a wonderful spread of such amazing dishes.
The turkey was made by Jason's sister and it was seriously the best turkey ever. Hopefully I can get her recipe and share it with you guys before next year's Thanksgiving!
I also made a huge fig-glazed ham that generated so much leftovers so I am super psyched to be waking up to a eggs and ham breakfast that I can make for weeks!
So if you're like me and ate way too much yesterday, then you'll need something light yet slightly decadent to balance out all the copious amounts of Thanksgiving food. Hence, I give you pumpkin nutella swirl oatmeal muffins. These babies are oh-so-moist and light with just enough sweetness from the Nutella to let you indulge a bit for breakfast. You can't beat that!
One year ago: Asian-Style Chicken Breasts
Pumpkin Nutella Swirl Oatmeal Muffins (adapted from Alaska from Scratch):
Yields 12 muffins
INGREDIENTS:
1 cup all-purpose flour
3/4 cup old-fashioned oats
3/4 cup sugar
2 teaspoons pumpkin pie spice
1 teaspoon baking soda
1/2 teaspoon salt
1 cup pumpkin puree
1/2 cup canola oil
2 large eggs
1 teaspoon vanilla
1/3 cup Nutella
DIRECTIONS:
Preheat oven to 375 degrees F. Line a 12-cup standard muffin tin with paper liners or coat with nonstick spray; set aside.
In a large bowl, combine the flour, oats, sugar, pumpkin pie spice, baking soda and salt.
In a large glass measuring cup or another bowl, whisk together pumpkin puree, canola oil, 1/4 cup water, eggs and vanilla.
Pour mixture over dry ingredients and stir using a rubber spatula just until moist.
Scoop the batter evenly into the muffin tray. Top each muffin with 1-2 teaspoons Nutella, swirling into the batter using figure eight motions.
Place into oven and bake for 15-17 minutes, or until a tester inserted in the center comes out clean.
Remove from oven and cool on a wire rack.
Related posts