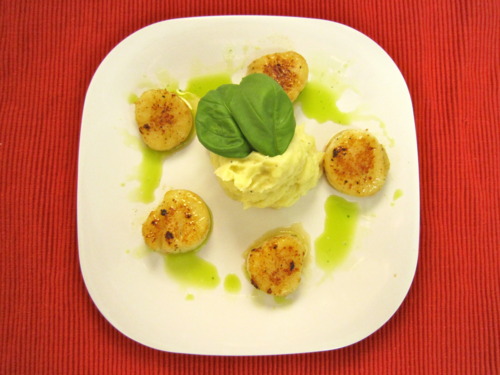 Pan-Seared Scallops with Yukon Gold Potato Mash and Basil Oil
ma3ti, 6 days ago
0
3 min

read
9
I absolutely love scallops but I refuse to pay $23.99 for a bag of 20 scallops. But this time, I just had to make an exception because once I came across this recipe, I couldn't resist! Pan-seared scallops are the best, especially because they have that nice burnt, brown color to it. The basil oil was also the perfect complement, a light sauce bursting with basil freshness. I would make this every day if I could just afford to buy the scallops!
Basil Oil (adapted from Emeril Lagasse):
Yields about 1/4 cup
5-6 fresh basil leaves
1/4 cup extra-virgin olive oil
Sea salt, to taste
In a small bowl, combine 1 cup of ice with 1 cup of water and set aside.
In a small saucepan, bring 2 cups of water to a boil. Add the basil leaves all at once, stirring to make sure they are all submerged.
Cook for 5-10 seconds, then remove by using a fine sieve or slotted spoon.
Transfer leaves immediately to the ice bath.
Remove the leaves from the ice bath and squeeze firmly in your hands to release as much liquid as possible.
Transfer leaves to a blender along with the olive oil and salt.
Process until the leaves are finely pureed, about 1-2 minutes.
Strain the basil oil through a fine sieve or coffee filter.
Place the oil in a small bowl and cover with plastic wrap.
Use the oil at room temperature, drizzled over salads, vegetables, sandwiches or grilled foods.
Pan-Seared Scallops with Yukon Gold Potato Mash (adapted from Emeril Lagasse):
Yields 2 servings
1 1/2 cups peeled, diced Yukon gold potatoes
1/4 cup warm heavy cream
3 1/2 tablespoons unsalted butter
10-12 large sea scallops
4 teaspoons olive oil
2 tablespoons fresh basil leaves
Salt and pepper, to taste
Place potatoes in a 1-quart saucepan and cover with water. Bring the water to a boil and cook the potatoes until tender, about 15 minutes.
Drain the potatoes and return them to the saucepan. Add the cream, 2 tablespoons of the butter, and salt and pepper to taste.
Use the potato masher to mash the potatoes until smooth.
Cover the pan with a lid and set aside until ready to use.
Heat a 10-inch saute pan over medium-high heat. Season the scallops with salt and pepper, to taste. Add the olive oil to the pan and place scallops in pan.
Sear for 1 minute on the first side, then add the remaining 1 1/2 tablespoons of butter to the pan. Continue to cook for about 30 more seconds and then turn over. Cook the scallops for 30 seconds on the second side and remove from the heat.
To plate the dish, place half of the potatoes on a warmed plate and divide the scallops between them. Drizzle the basil oil around the plate and garnish with the fresh basil. Serve immediately.
Related posts