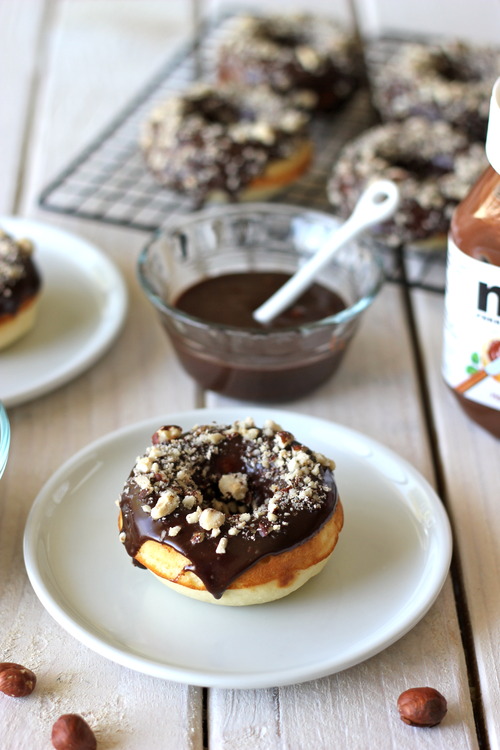 Nutella Donuts – Easy recipes
ma3ti, 2 months ago
0
3 min

read
50
Incredibly light and fluffy donuts topped with an indulgent Nutella glaze!
Jason's been gone less than a week and I'm already eating cereal dinners and going to bed at 8PM. It's embarrassing, really, but I'm just too tired to do anything else! How did I ever manage to go out to bars and come home at 5AM during my college days?! At this point, I don't even like driving at night!
Anyway, on a more fun note, let's talk about donuts. We all love them, right? It's more of a dessert-type item but it's a totally acceptable breakfast treat, giving you the perfect excuse to indulge before you head off to work or school. Best of all, you can roll one right into a napkin and devour the crap out of it while driving. We've all done that before, right? It's not just me?
Now with these particular donuts, I took the base recipe from the amazing Julie at Table for Two, and it was the most pillowy donuts I have ever made. It's amazing to think that this doesn't have any yeast in them. Top these off with a Nutella glaze along with some chopped hazelnuts and you'll have one of the best donuts ever. Seriously.
But I should warn you that these donuts are very dangerous to have around the house. As soon as I inhaled one of these, I snuck into the kitchen for another one. Hoping that Jason didn't see me eat two donuts right after we had a big lunch, he pointed out that I had Nutella glaze all over my mouth.
So here's how you make this:
Let's first start by combining the dry ingredients.
Then the wet – milk, butter, vinegar and egg.
Then we'll combine the wet to dry, using a rubber spatula to ensure that we don't overwork the batter.
We'll divide the batter up into the donut cavities and bake them for about 7 minutes or so. Let them cool on a wire rack while you make the glaze.
So for the glaze, all we need is some Nutella magic and some heavy cream. Give it a good whisk until it gets smooth and creamy.
Dip the tops into the glaze and sprinkle on some crushed hazelnuts and you're good to go.
I won't judge you if you eat all 6 donuts by yourself.
Also, the direction advises to let the glaze set before serving but we all know that it would be crazy to wait that long.
One year ago: Meatball Subs
Nutella Donuts (adapted from Table for Two):
Yields 6 donuts
INGREDIENTS:
3/4 cup all-purpose flour
1/3 cup sugar
2 tablespoons cornstarch
1 teaspoon baking powder
1/2 teaspoon salt
1/3 cup plus 2 tablespoons milk
1 tablespoon unsalted butter, melted
1 1/2 teaspoons white vinegar
1 large egg
Crushed hazelnuts, for sprinkling
For the ganache:
1/2 cup Nutella
1/3 cup heavy cream
DIRECTIONS:
Preheat oven to 450 degrees F. Coat a donut pan with nonstick spray.
In a large bowl, combine flour, sugar, cornstarch, baking powder and salt.
In a large glass measuring cup or another bowl, whisk together milk, butter, vinegar and egg.
Pour mixture over dry ingredients and stir using a rubber spatula just until moist.
Scoop batter evenly into donut pan.
Place into oven and bake for 7-8 minutes, or until donuts are slightly browned and spring back when touched.
To make the glaze, combine Nutella and heavy cream. Whisk until smooth. If the glaze is too thick, add more heavy cream as needed.
When the donuts are done, cool for 10 minutes and dip the tops into the glaze. Sprinkle with hazelnuts.
Allow glaze to set before serving.
Related posts