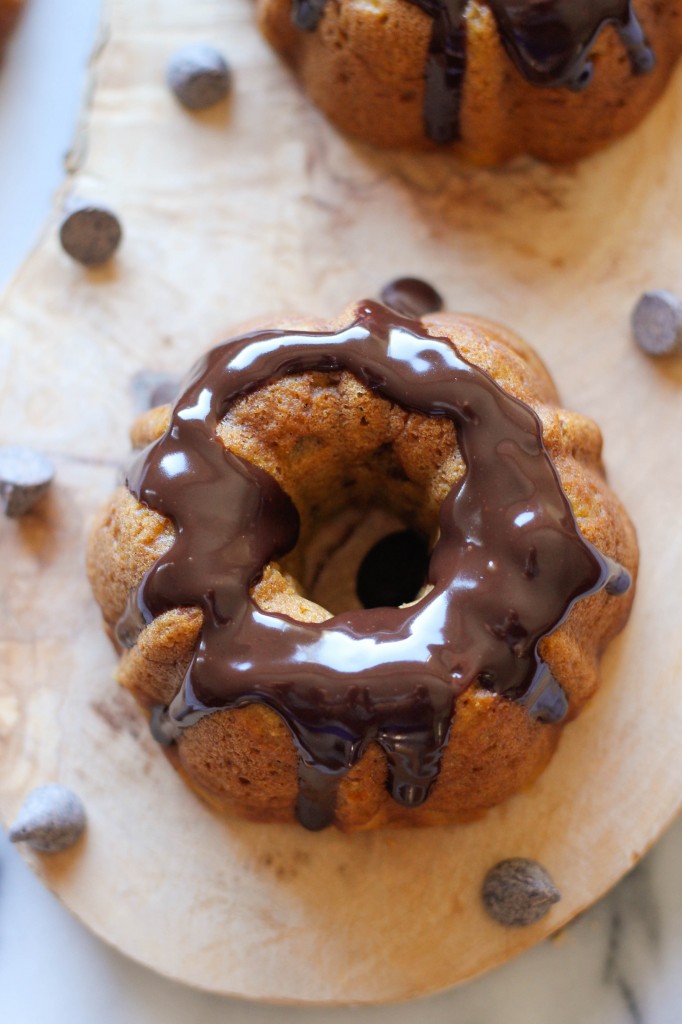 Mini Pumpkin Bundt Cake with Chocolate Rum Glaze
ma3ti, 6 days ago
0
3 min

read
9
Moist, fluffy mini pumpkin bundt cakes with a boozy rum chocolate glaze that is out of this world!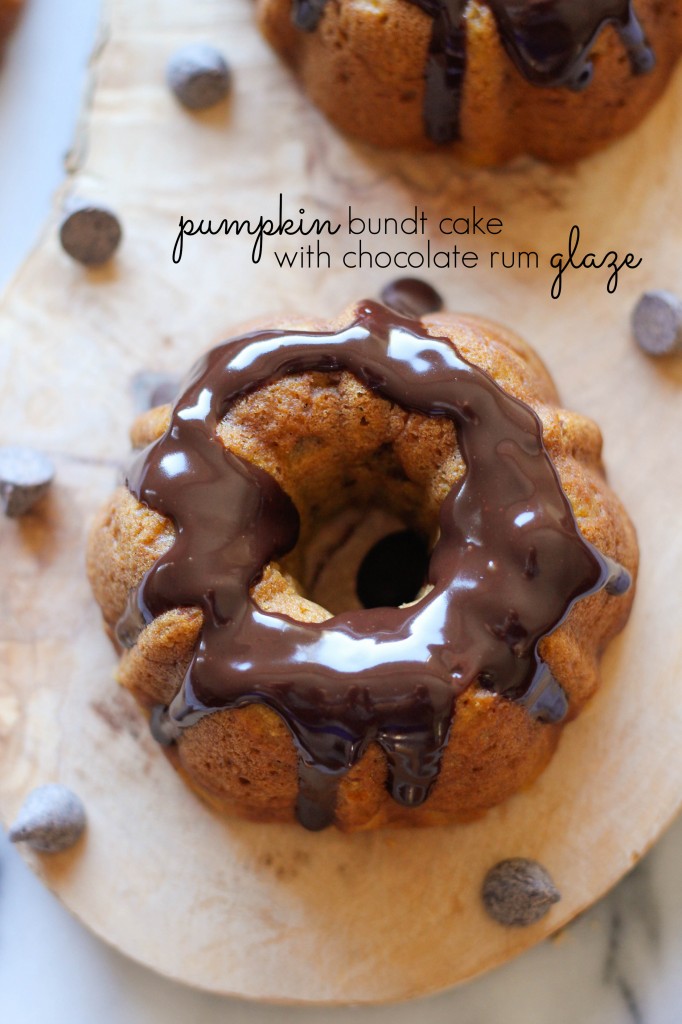 You know how in a horror film, they capture the bad guy and then the people turn around, thinking that it's all over, but then the bad guy somehow gets loose and kills them all? Well, that kind of happened to me today. Except it wasn't a bad guy. It was something a lot scarier.
It was a spider.
See, I was in the middle of doing laundry when I spotted this horrid spider. I quickly ran upstairs, grabbed the 409 cleaning solution and drowned him in it. Feeling triumphant, I turned my back on him to finish the laundry since the water had already started running. I kept turning around to make sure that he was dead, and he was. Except when I turned around the third time, he was gone and he was right. behind. me., plotting his revenge against me. Or in other words, trying to Kill-Bill-me. I started to frantically scream before I drowned him for a second time in 409. I made sure he was dead at that point.
I just don't understand how the spider didn't die in the first drowning.
So to get my mind off the whole-spider-murder-situation, I decided to get some pumpkin baking in – my first pumpkin recipe of the season actually. I decided on mini bundt cakes because at the end of the day, miniature sized food always tastes better. And it makes me feel better about myself when I eat the entire thing. After all, it's a sized-down food item, right?
The batter comes together so easily – a mixer is not even required! And once it cools out of the oven, go ahead and slather on that boozy rum chocolate glaze. It's absolutely heavenly. And it's a sure way to get spiders off your mind.
1 ½

cups

all-purpose flour

1

teaspoon

baking soda

¼

teaspoon

pumpkin pie spice

¼

teaspoon

cinnamon

¼

teaspoon

allspice

¼

teaspoon

cloves

¼

teaspoon

salt

1

cup

canned pumpkin puree

¾

cup

sugar

½

cup

vegetable oil

2

large eggs

¼

cup

sour cream

1

teaspoon

vanilla extract
For the Chocolate Rum Glaze
⅔

cup

chocolate chips

¼

cup

heavy cream

1

tablespoon

rum
Preheat oven to 350 degrees F. Lightly coat a mini bundt pan with nonstick spray.
In a large bowl, combine flour, baking soda, pumpkin pie spice, cinnamon, allspice, cloves and salt. In a large glass measuring cup or another bowl, whisk together pumpkin puree, sugar, vegetable oil, eggs, sour cream and vanilla.
Pour mixture over dry ingredients and stir using a rubber spatula just until moist.
Scoop the batter evenly into the bundt pan. Place into oven and bake for 15-20 minutes, or until a tester inserted in the center comes out clean.
Remove from oven and let cool for 15 minutes before inverting the cake onto a wire rack.
To make the glaze, heat heavy cream in the microwave for 1 minute, or until boiling; set aside. In another microwave-safe bowl, melt chocolate chips in the microwave for 1 minute. Whisk in heavy cream and rum until smooth.
Drizzle the glaze evenly over the top of the cakes, allowing to drip down the sides.
Allow glaze to set before serving.
Related posts