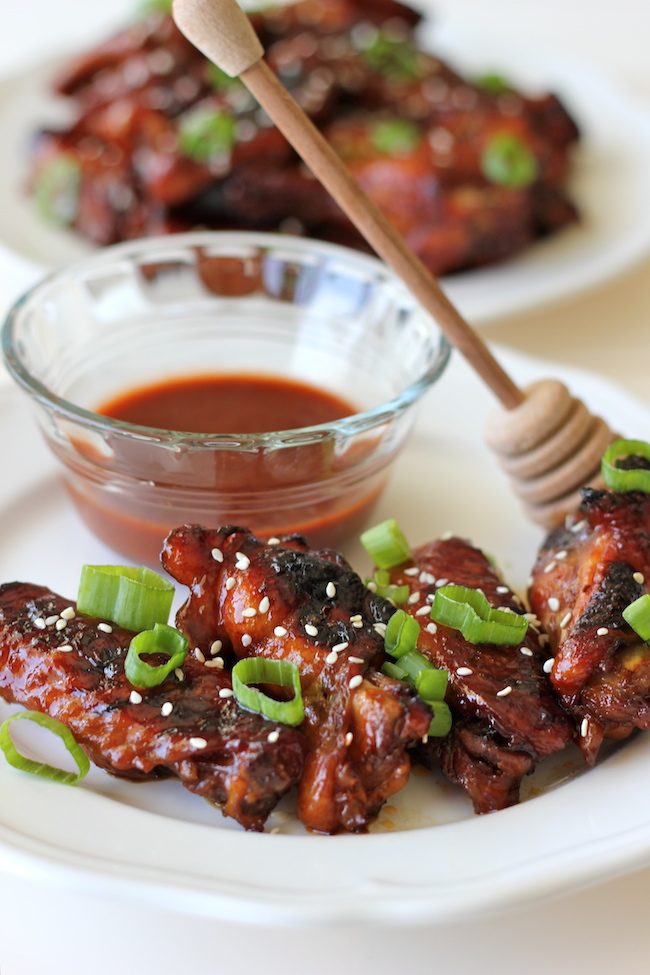 Hot Wings – Easy recipes
ma3ti, 2 weeks ago
0
3 min

read
12
So the boyfriend was craving some hot wings and since he likes his food EXTREMELY spicy, I had to find a recipe that was hot enough to satisfy his taste buds. After searching endlessly for the perfect recipe, Bobby Flay finally came to my rescue. I instantly liked his recipe because it called for 3 different peppers, but I was a bit worried since I had no idea where to find some of them. Fortunately, I was able to find the New Mexico chili powder and the chipotle chiles at my local Mexican supermarket. As for the ancho chili powder, you can find them at any of the grocery stores in the spice aisle.
As I was making this, I was terrified that this was going to be too spicy, especially since I was piling on tablespoons of chili powder one after another. I even teared up when I took a whiff of the hot sauce mixture! But it was surprisingly just the perfect amount of spiciness for me, and I am one of those rare Koreans who cannot handle her spiciness. Every bite consisted of such bold flavor and all the chilies melded so well together. The blue cheese yogurt sauce was also phenomenal. I even saved some to put on a burger for next time.
Blue Cheese Yogurt Sauce (adapted from Bobby Flay):
1 Greek yogurt (5.3 oz)
1/4 cup crumbled blue cheese
2 tablespoons finely grated red onion
2 tablespoons finely chopped fresh cilantro leaves
Salt and ground black pepper
Stir together the yogurt, blue cheese, red onion, cilantro and salt and pepper in a bowl. Refrigerate for at least 30 minutes before serving to allow the flavors to meld.
Hot Wings (adapted from Bobby Flay):
Yields 4 servings
Canola oil
1 cup all-purose flour
Salt and freshly ground black pepper
2 teaspoons ancho chili powder, plus 2 tablespoons
1 teaspoon garlic powder
2 pounds chicken wings split at the joint, wing tips removed and discarded (this was about 16 pieces for me)
1/2 cup red wine vinegar
2 tablespoons pureed chipotle chile in adobo
1 tablespoon New Mexico chili powder
1 tablespoon Dijon mustard
1 teaspoon salt
2 tablespoons honey
1 stick unsalted butter, quartered
Heat 2-inches of the oil in a large, high-sided pan until it reaches 375 degrees F on a deep-fry thermometer.
Stir together the flour, salt, pepper, to taste, 2 teaspoons ancho chili powder and garlic powder in a shallow bowl. Season the wings with salt and pepper and add the wings in batches to the flour mixture to lightly coat and tap off excess flour.
Add the wings in batches and cook until golden brown and cooked through, 8 to 10 minutes. Removed with a slotted spoon and place on a plate lined with paper towels.
Bring the vinegar, chipotle puree, 2 tablespoons chili powder and New Mexico chili powder to a simmer in a large high-sided saute pan over medium heat. Remove the mixture from the heat and whisk in the mustard, salt, honey, and butter until smooth. Add the wings to the mixture and toss to coat.
(Yes, I am using chopsticks. It's one of my favorite utensils in the kitchen since it functions like a super-skinny tong.)
Related posts