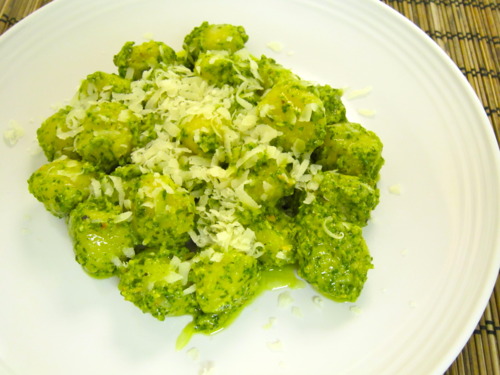 Gnocchi with Spring Herb Pesto of Baby Arugula and Basil
ma3ti, 2 months ago
0
1 min

read
58
This was the freshest pesto of all, especially since I used the basil leaves right from my own garden. The basil taste was strong but balanced very well with the arugula and it went perfectly with the tender gnocchi. I can't wait to make this pesto again to make a pesto pasta salad.
Gnocchi with Spring Herb Pesto of Baby Arugula and Basil (adapted from Emeril Lagasse):
Yields 2 servings
1 cup baby arugula
1 cup fresh basil leaves
1/4 cup pine nuts, toasted
2 tablespoons grated Parmesan, plus more for garnish
1 clove garlic
1/4 cup extra-virgin olive oil, plus 1 tablespoon
Salt and pepper
1/2 pound gnocchi
In the bowl of a food processor, combine arugula, basil, pine nuts, Parmesan, and garlic.
With the motor running, add 1/4 cup olive oil in a slow stream until emulsified. Season with salt and pepper, to taste.
In a large pot of boiling salted water, add gnocchi. Cook until they rise to the surface (just a few minutes for fresh pasta.) Drain well, reserving 2 tablespoons of pasta water.
In a large pan or bowl, combine pesto with remaining 1 tablespoon olive oil and reserved pasta water. Pesto should become a sauce-like consistency.
Add gnocchi and toss to combine.
Serve, garnished with Parmesan.
Related posts