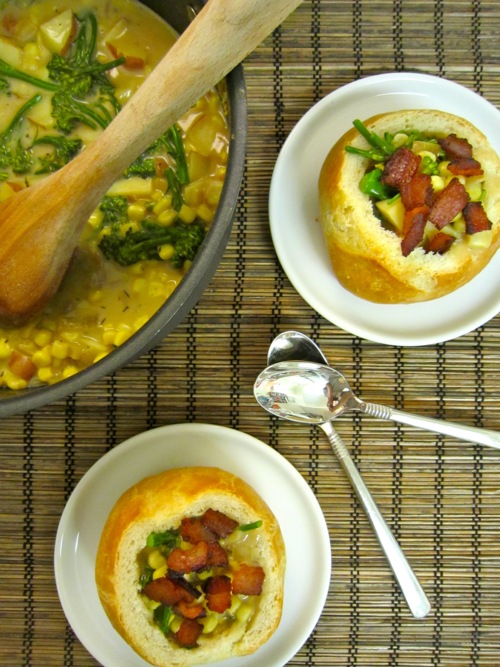 Broccoli Chowder with Corn and Bacon
ma3ti, 6 days ago
0
1 min

read
9
I've never really attempted to make soups before because I always thought they were too difficult to make. But surprisingly enough, they're actually quite simple. This recipe was particularly easy and included all of my favorite things: broccoli, potato, corn, and of course, bacon. It was very flavorful and I just loved the bread bowl that soaked up all of the chowder goodness!
Broccoli Chowder with Corn and Bacon (adapted from Martha Stewart):
Yields 2 servings
2 slices bacon, cut into 1-inch pieces
1 small onion, chopped
2 tablespoons all-purpose flour
2 cups reduced-sodium chicken broth
2 red potatoes, diced
1/2 head broccoli (about 1/2 pound), cut into bite-size florets, stalks peeled and thinly sliced (I used baby broccoli instead)
1 cup frozen corn kernels
1/4 teaspoon dried thyme
1/2 cup milk
Coarse salt and ground pepper
In a large pot, cook bacon over medium-low, stirring occasionally, until crisp, about 8-10 minutes.
Using a slotted spoon, transfer to a paper towel-lined plate.
Increase heat to medium. Cook onion, stirring, until it begins to soften, about 6-8 minutes.
Add flour; cook, stirring constantly for about 30 seconds.
Add broth and potato; bring to a boil.
Reduce to a simmer; cook until potato is tender, about 10 minutes.
Add broccoli, corn, thyme, and milk.
Cook until broccoli is tender, about 8-10 minutes. Season with salt and pepper.
Serve topped with bacon.
Related posts