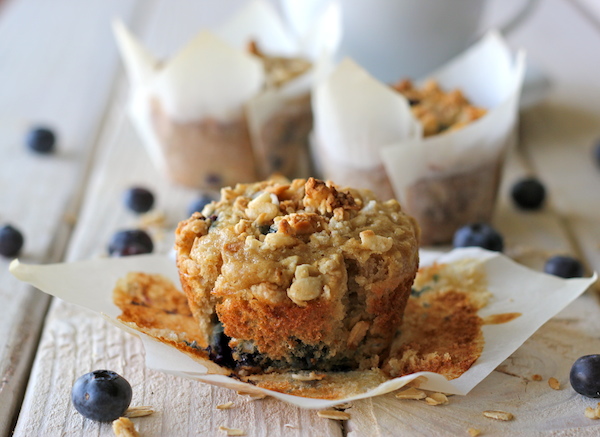 The perfect way to start your mornings with these healthy, hearty muffins loaded with juicy blueberries and crumbly granola!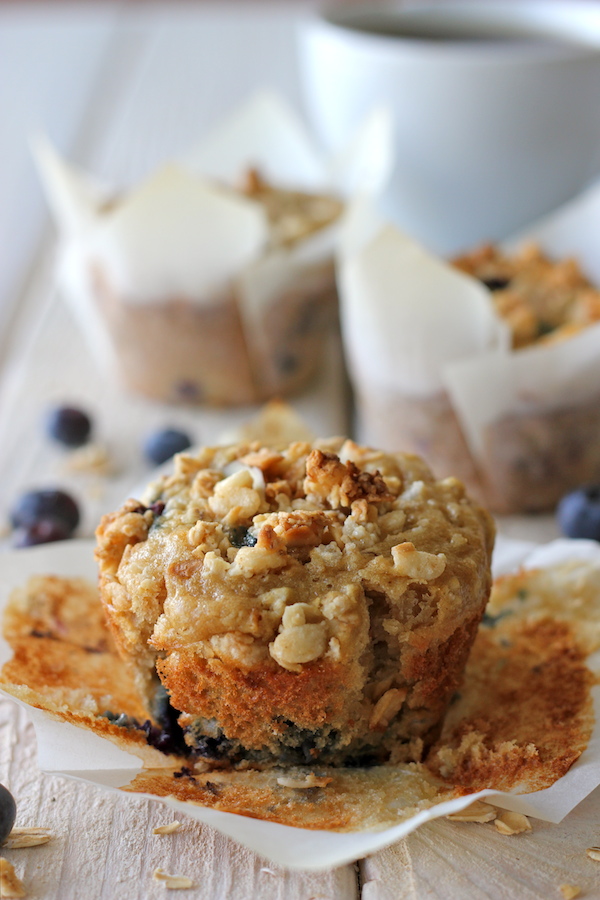 Between my full-time day job and my full-time blog job, it can be a bit exhausting. That's why I'm always on the lookout to simplify my time spent in the kitchen during the insane mornings where I'm struggling to get out the door before 7:30AM or when I'm too tired to cook after a 10-hr work day.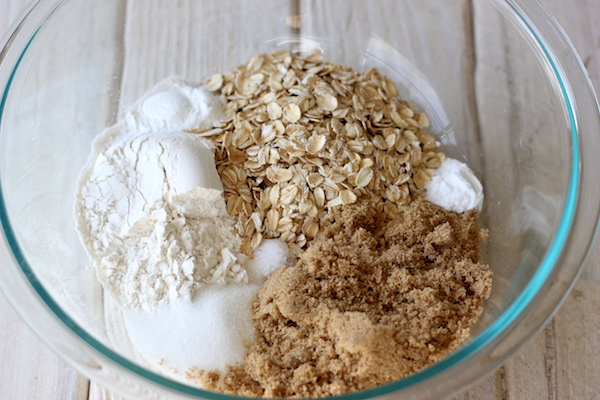 I generally skimp on dinner with some yogurt or cereal but I do my best to have a hearty meal for breakfast before I head off to work. But it's impossible to whip up a complete breakfast that involves pancakes, eggs, bacon, home fries and freshly squeezed orange juice during the work week.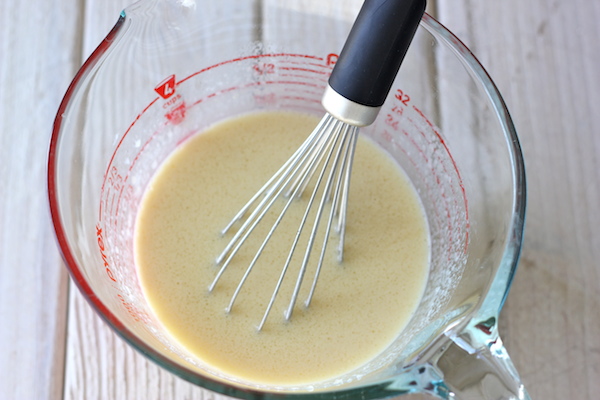 So to save some time in the kitchen, I whip up a batch of muffins and pop them in the freezer. When the morning comes around, I take one of the muffins and reheat it in the microwave for 30 seconds. It tastes just like it did when it came out of the oven and the only effort it took was a 30 second wait. How easy is that?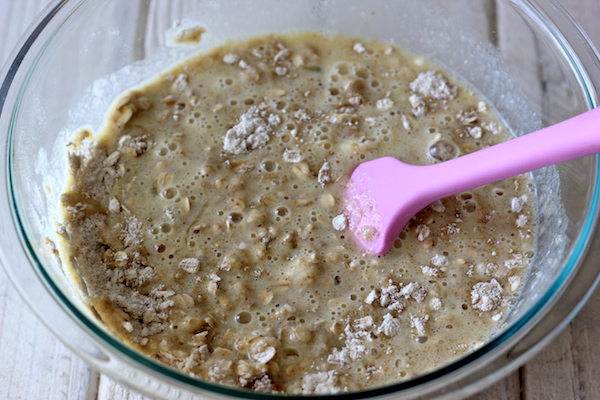 But being low on my supply of muffins, I just had to replenish by making some oatmeal muffins. I found some gorgeous blueberries at the grocery store the other day so I just had to throw them in here too. And then at the last minute, I found some leftover granola to be used as a crumb topping before popping these babies into the oven.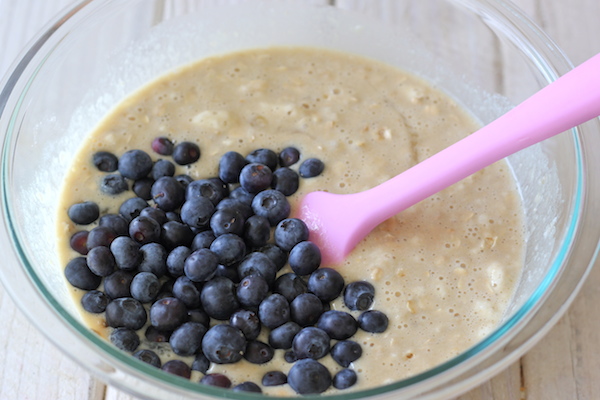 These muffins are incredibly light and fluffy, loaded with fresh blueberries just waiting to burst. I absolutely loved these muffins as is but when I topped them off with some Land O Lakes® Butter with Canola Oil, I was in heaven.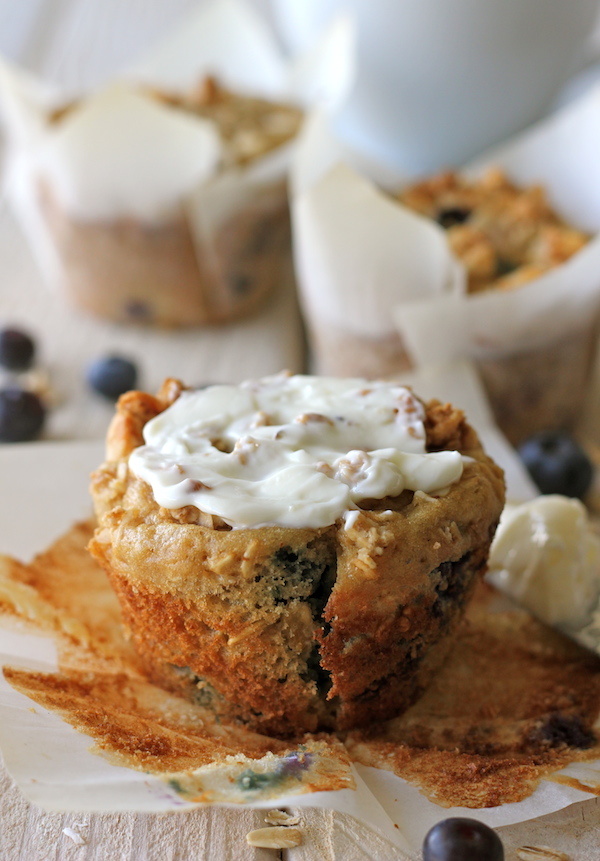 With just three simple ingredients of sweet cream, canola oil and salt, this butter here gives you just enough creamy, spreadable goodness in every bite. You can seriously spread this butter on everything, from dinner rolls to pastries to your morning bagel, but my all time favorite is spreading this onto these muffins here!
1

cup

all-purpose flour

1

cup

old fashioned oats

½

cup

brown sugar

,

packed

2

tablespoons

sugar

1

teaspoon

baking powder

½

teaspoon

baking soda

¼

teaspoon

salt

1

cup

2% milk

½

cup

unsweetened applesauce

1

tablespoon

vegetable oil

2

large eggs

1

teaspoon

vanilla extract

1

cup

blueberries

1

cup

granola
Preheat oven to 400 degrees F. Line a 12-cup standard muffin tin with paper liners or coat with nonstick spray; set aside.
In a large bowl, combine flour, oats, sugars, baking powder, baking soda and salt.
In a large glass measuring cup or another bowl, whisk together milk, applesauce, vegetable oil, eggs and vanilla. Pour mixture over dry ingredients and stir using a rubber spatula just until moist. Add blueberries and gently toss to combine.
Scoop the batter evenly into the muffin tray. Sprinkle with granola. Place into oven and bake for 15-17 minutes, or until a tester inserted in the center comes out clean.
Remove from oven and cool on a wire rack.
Related posts