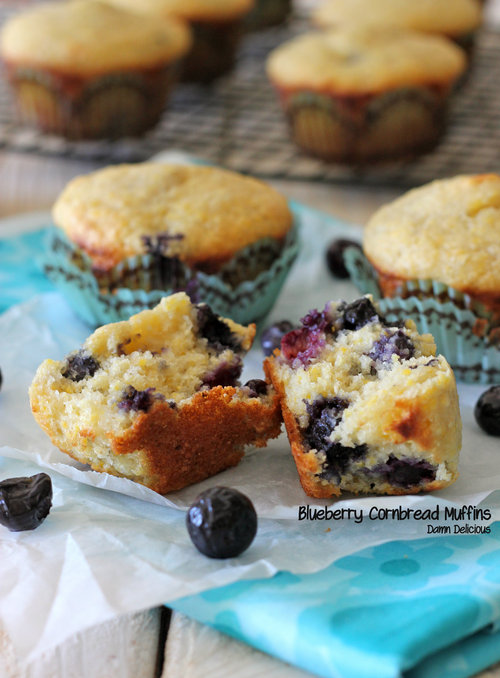 Blueberry Cornbread Muffins – Easy recipes
ma3ti, 7 days ago
0
3 min

read
9
Moist, rich and heavenly cornbread muffins bursting with juicy blueberries. Perfect as breakfast, snack or even a side dish!
My name is Chung-Ah and I am a Dexter addict.
It's bad guys. Just a couple of weeks ago I was starting season one and now I'm somehow managing to watch half a season a night. And it's not like I don't have anything to do. I have a full-time job, I have to manage this blog, I have to do various home errands like cleaning and doing laundry among a ton of other stuff. It seriously amazes me as to how I can just sit through 5-6 episodes and get the rest of my work done.
Btw, watching this amount of Dexter before going to bed is definitely not recommended. I had a dream that I was a cop, part of a homicide investigation.
Yeah, I told you it was bad.
Anyway, let's talk about these cornbread muffins because I really need to go back to watching Dexter. They're incredibly moist and light, and these babies have just the right amount of honey in them for a hint of sweetness and the plump blueberries burst in your mouth with every bite. They serve as the perfect complement for chili, or even as an appetizer, a side dish, a quick breakfast or a midnight snack. I think I might even munch on these as I watch Dexter until the wee hours of the night!
So here's how you make this:
As always, we'll start with the dry ingredients: flour, cornmeal sugar, baking powder and salt.
Next, we'll whisk together the wet ingredients: milk, butter, applesauce, honey and eggs.
Then we'll combine the wet to dry, stirring with a rubber spatula.
And here we'll toss in some fresh or frozen blueberries, whatever you have on hand.
Go ahead and divide the batter up into a muffin try and pop them into a 400 degree F oven for about 13-15 minutes.
Muffin Monday is an initiative by Baker Street. A culinary journey of sharing a wickedly delicious muffin recipe every week. Drop in a quick line to join her on her journey to make the world smile and beat glum Monday mornings week after week.
Blueberry Cornbread Muffins (adapted from The Neelys):
Yields 12 muffins
INGREDIENTS:
1 cup all-purpose flour
1 cup yellow cornmeal
1/3 cup granulated sugar
1 tablespoon baking powder
1 teaspoon salt
1 cup milk
1/4 cup unsalted butter, melted
1/4 cup unsweetened applesauce
1/4 cup honey
2 large eggs
1 cup blueberries
DIRECTIONS:
Preheat oven to 400 degrees F. Line a 12-cup standard muffin tin with paper liners; set aside.
In a large bowl, combine flour, cornmeal sugar, baking powder and salt.
In a large glass measuring cup or another bowl, whisk together milk, butter, applesauce, honey and eggs.
Pour mixture over dry ingredients and stir using a rubber spatula just until moist. Add blueberries and gently toss to combine.
Scoop the batter evenly into the muffin tray.
Place into oven and bake for 13-15 minutes, or until a tester inserted in the center comes out clean.
Remove from oven and cool on a wire rack.
Related posts