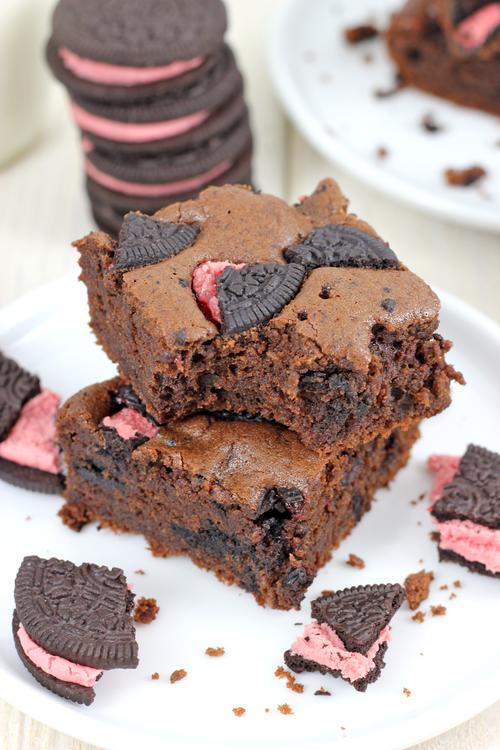 Berry Burst Ice Cream Oreo Brownies
ma3ti, 2 weeks ago
0
2 min

read
14
The easiest brownies you'll ever make with crumbled Oreos swirled right into the batter!
So what does a 20-something girl do on a Friday night? Well, if I were still in college, I'd tell you that I'd be at some bar and then come home at the wee-hours of about 5AM. But since my college days are long over, I actually picked up some Thai food on the way home from work, had like 1/4 of it before I got too full (Jason usually eats my leftovers), did a couple of loads of laundry, watched Salt with gorgeous Angelina Jolie (I still resent her for the whole Brad & Jennifer divorce situation but I still think she's freaking hot) and then I baked the night away.
There's something so therapeutic about baking on a Friday night. Maybe it's the thought of just relaxing, doing something you love and then not having to think about waking up for work the next day. Or maybe it's the smell of freshly baked brownies studded with the amazing berry burst ice cream Oreos. Or maybe it's the fact that you can gorge on these brownies at midnight with a cold glass of milk and then sleep right afterwards.
One year ago: Chicken Enchilada Roll-Ups
Berry Burst Ice Cream Oreo Brownies (adapted from Sugar & Snapshots):
Yields 9 brownies
INGREDIENTS:
10 tablespoons unsalted butter
4 ounces semi-sweet chocolate, roughly chopped
3 large eggs, beaten
1/4 cup all-purpose flour
1 1/2 tablespoons cocoa powder
1/2 cup brown sugar, packed
1 1/2 teaspoons baking powder
16 berry burst ice cream Oreo cookies, crumbled, divided
DIRECTIONS:
Preheat oven to 350 degrees F. Lightly coat an 8×8 baking dish with nonstick spray; then line baking dish with parchment paper.
Microwave butter and chocolate in a large bowl in 30 second intervals, stirring in between, until completely melted and smooth, about 1-2 minutes. Add eggs, whisking until well combined. Add flour, cocoa powder, brown sugar and baking powder stirring just until incorporated. Add 8 crumbled Oreos and gently toss to combine. Sprinkle with remaining Oreos, using your fingertips to gently press the cookies into the batter.
Spread the batter into prepared baking dish. Place into oven and bake for 25-30 minutes, or until set.
Let cool completely before cutting into bars.
Related posts