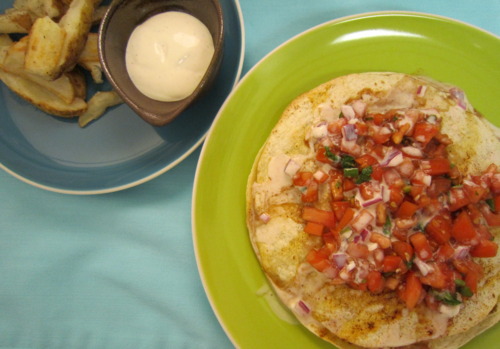 BBQ Chicken Quesadilla with Smoked Tomato Relish and Buttermilk Dressing
ma3ti, 6 days ago
0
3 min

read
7
So this was my second Bobby Flay recipe and I've realized that Bobby Flay likes to make the simplest dishes into the most complicated ones, which is probably why I like his recipes so much. This recipe wasn't very difficult or anything but it was EXTREMELY tedious. It took me a couple of hours to make and my feet were burning like no other. But in the end, it was worth all the time and effort.
As you can tell from all the ingredients, there were tons of flavors packed into this quesadilla. None were overpowering so you could taste each of the flavors distinctly, from the BBQ sauce to the cayenne pepper to the balsamic tomato salsa. It was just a perfect blend of flavors with a pleasant spiciness to it.
Smoked Tomato Salsa (adapted from Bobby Flay):
4 cold smoked plum tomatoes, coarsely chopped
1/4 serrano chile, finely chopped (you could add more if you like your food spicy)
2 cloves garlic, finely chopped
1-2 tablespoons balsamic vinegar
2 tablespoons coarsely chopped cilantro
Salt and ground pepper
Mix all ingredients together and season with salt and pepper to taste.
Buttermilk Dressing (adapted from Bobby Flay):
1/4 cup sour cream
3/4 cup buttermilk
2 cloves garlic, finely chopped
3 tablespoons finely chopped red onion
2 tablespoons fresh lime juice
1/4 teaspoon cayenne pepper
Salt and ground pepper
Mix all ingredients together and season with salt and pepper to taste.
BBQ Chicken Quesadilla (adapted from Bobby Flay):
Yields 4 servings
2 chicken thighs, boned (about 1/2 pound), skin removed
1-2 cups BBQ sauce, divided
Salt and ground pepper
12 (6-inch) flour tortillas
1 cup shredded Monterey Jack cheese
1 cup shredded white cheddar cheese
1/2 large red onion, thinly sliced
2 tablespoons olive oil
1 tablespoon ancho chile powder
(Yes, I am using Phil's BBQ sauce, the most amazing BBQ sauce ever.)
Place chicken in a medium baking dish. Pour 1 cup of the barbecue sauce over chicken and let marinate for 2 hours in the refrigerator.
Remove from marinade, season with salt and pepper to taste and grill for 7-8 minutes on both sides or until tender and cooked through.
Transfer chicken to a plate and let cool. Preheat oven to 450 degrees F. When chicken is cool enough to handle, slice. Toss with the reserved 1 cup of BBQ sauce.
Place 4 tortillas on a flat surface and sprinkle with 2 tablespoons of each of the cheeses and onion slices. Top with some chicken. Stack another tortilla on top and repeat.
Top with the remaining 4 tortillas. Brush the top of the tortillas with oil and sprinkle with the chili powder. Place tortillas on a lightly oiled baking sheet and bake for 5-7 minutes or until golden brown and cheese has melted.
To serve, place 1 quesadilla on each plate and cut into quarters. Top with a dollop of salsa and drizzle with the buttermilk dressing.
Related posts