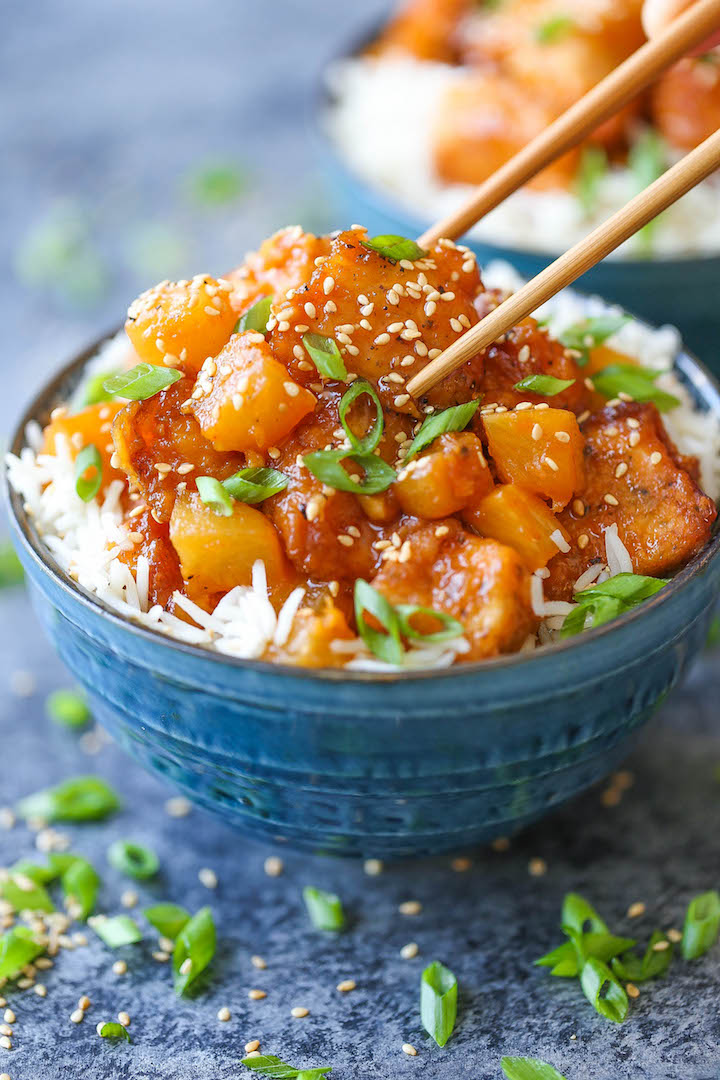 Baked Pineapple Chicken Bowls – Easy recipes
ma3ti, 6 days ago
0
2 min

read
14
Savory, sweet and sour with the juiciest of pineapple chunks and the most tender chicken bites baked to absolute perfection.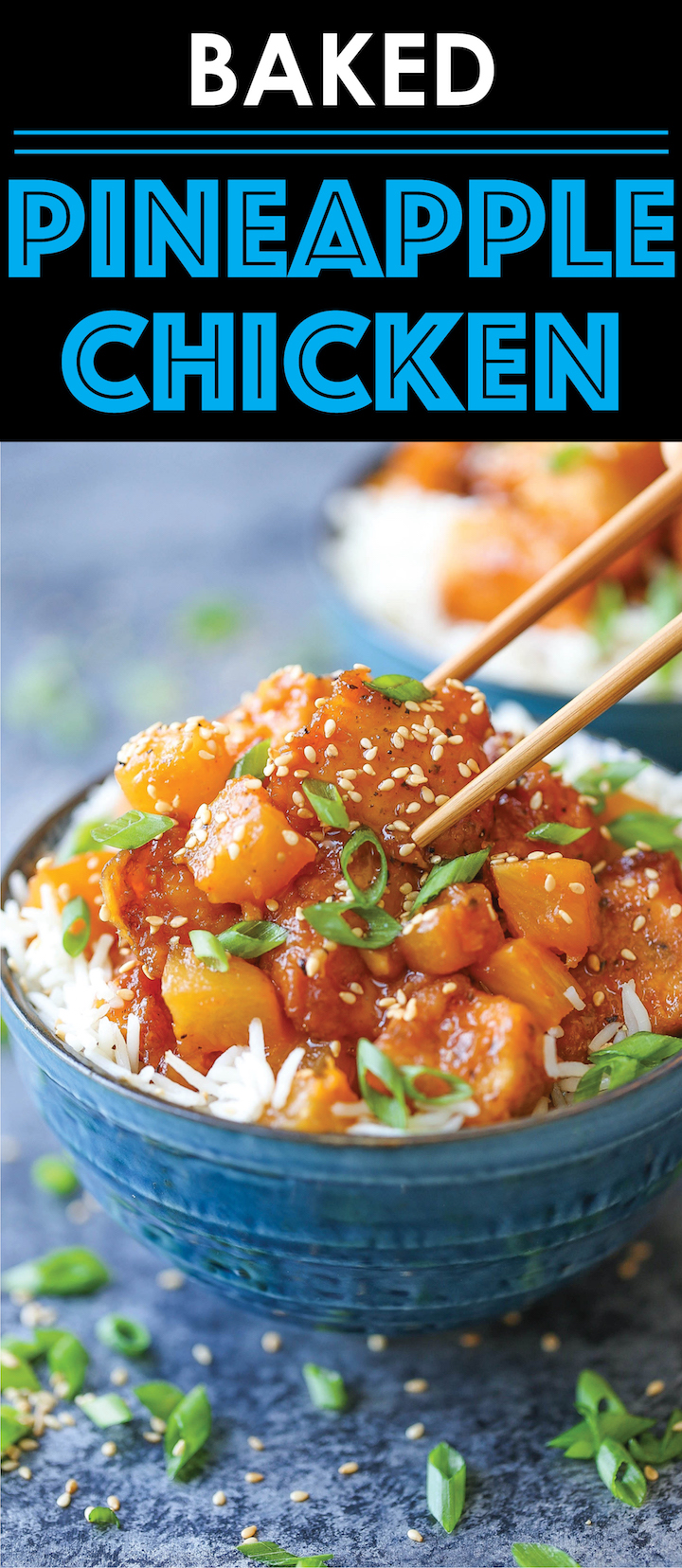 Pineapple chicken. Now that's a combination of flavors that can never go wrong.
All this is missing is a drizzle of Sriracha. Because at the end of the day, everything needs Sriracha. EVERYTHING. Even if it's just a small drizzle.
But if you don't have the highest tolerance for spicy foods, I guess I can forgive you.
The sweet and savory sour flavors here will still stand alone just fine.
But really, my favorite part about this are the juicy pineapple chunks.
That's all you really need anyway.
The pineapples and Sriracha. The chicken, as juicy and tender as it is, can stay by the sidelines, I guess.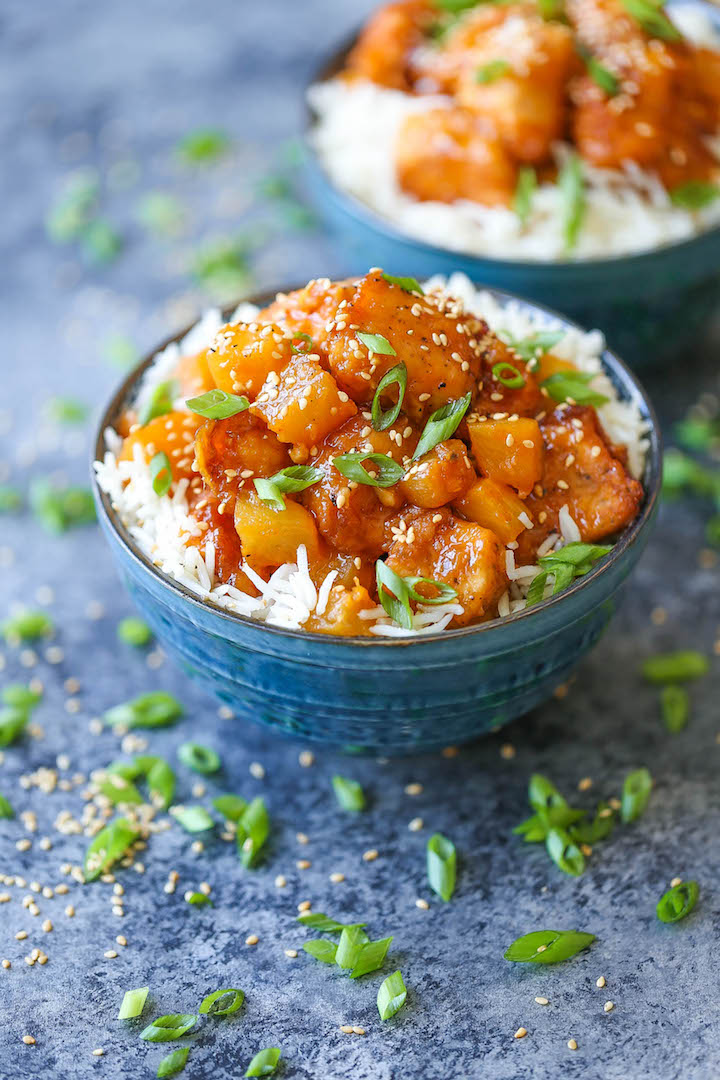 1

cup

pineapple juice

¼

cup

brown sugar

¼

cup

reduced sodium soy sauce

3

cloves

garlic

,

minced

1

tablespoon

freshly grated ginger

1

tablespoon

Sriracha

,

optional

1

pound

boneless

,

skinless chicken breasts, cut into 1-inch chunks

Kosher salt and freshly ground black pepper

,

to taste

½

cup

cornstarch

2

large eggs

,

beaten

¼

cup

vegetable oil

2

cups

diced pineapple

,

canned or fresh

1

green onion

,

thinly sliced

¼

teaspoon

sesame seeds
Preheat oven to 325 degrees F. Lightly oil a 9×13 baking dish or coat with nonstick spray.
To make the sauce, whisk together pineapple juice, brown sugar, soy sauce, garlic, ginger and Sriracha in a medium bowl; set aside.
In a large bowl, season chicken with salt and pepper, to taste. Stir in cornstarch and gently toss to combine. Working one at a time, dip chicken into the eggs.
Heat vegetable oil in a large saucepan. Add chicken and cook until golden brown, about 1-2 minutes. Transfer to a paper towel-lined plate; discard excess oil.
Add chicken and pineapple to prepared baking dish. Top with pineapple juice mixture.
Place into oven and bake until the sauce has thickened, about 55 minutes, turning over every 15 minutes to evenly coat the chicken.
Serve immediately, garnished with green onion and sesame seeds, if desired.
Related posts