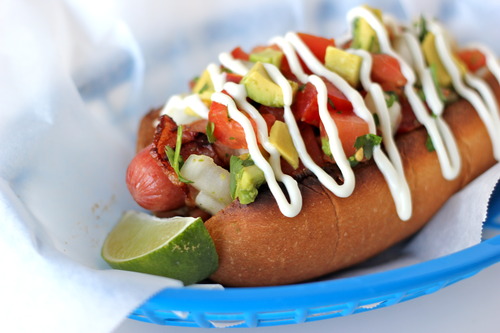 Bacon-Wrapped Sonoran Hot Dog – Easy recipes
ma3ti, 2 weeks ago
0
3 min

read
13
With crisp bacon, pinto beans and avocado pico de gallo, you can't go wrong with these!
With my dad living in Korea and all, I tend to forget when Father's Day comes around. Father's Day isn't celebrated in Korea so I only learned about it in grade school when they assigned us these special arts and crafty projects to give to my dad on the big day. But since he's halfway around the world now, we never get to celebrate it anymore. I always ask him over the phone if he'd like me to send him anything and he just laughs and tells me to work hard in school.
But with this #SundaySupper menu, I thought it would be nice to dedicate these hot dogs to my dad. I'm sure he'd just look at these hot dogs, baffled with all these toppings, and ask for a hot dog with some ketchup on it. But still, he should know that these bacon-wrapped hot dogs sitting on some warmed beans and topped with an avocado pico de gallo drizzled with some mayo is a hot dog that is incomparable to one topped with ketchup.
So here's how you make this:
Let's start with the avocado pico de gallo. We'll toss some tomatoes, onions, cilantro and lime juice, stirring in the avocados at the very end so they don't get all mushed up and guacamole-like.
Then grab your favorite kind of hot dogs. I snagged these amazing organic ones from Trader Joe's.
Now we'll wrap each hot dog with some good quality bacon. Trader Joe's has the best kind of apple smoked bacon.
Then we'll grill these babies off until they're nice and crisp.
Be sure to toast up some good quality hot dog buns.
Then we'll assemble these by adding some beans to the bottom of the bun and then the bacon-wrapped hot dog topped with the avocado pico de gallo. Once you get all that to fit in that tiny little bun, we'll drizzle it with some mayonnaise that has been thinned out with some milk.
Now how easy was that?
So do you still want that depressing hot dog with the ketchup?
One year ago: Carne Asada Tacos with Roasted Tomato Salsa and Onion Cilantro Relish
Bacon-Wrapped Sonoran Hot Dog (adapted from Everyday Southwest):
Yields 4 servings
INGREDIENTS:
3 Romato tomatoes, diced
2 avocados, peeled, halved, seeded and diced
1/4 cup diced red onion
2 tablespoons chopped fresh cilantro leaves
Juice of 2 limes
Pinch of salt
1/4 cup mayonnaise
1 teaspoon milk
4 hot dogs
4 slices bacon
1 (15-ounce) can ranch style beans, drained and warmed
4 best quality hot dog buns
DIRECTIONS:
Preheat grill to medium high heat.
In a medium bowl, combine tomatoes, avocados, onion, cilantro, lime juice and salt.
In a small bowl, whisk together mayonnaise and milk. If the mixture is too thick, add more milk as needed.
Wrap each hot dog in a strip of bacon; set aside.
Grill hot dogs until the bacon is brown and crispy, about 8-10 minutes.
To assemble the hot dogs, scoop the beans evenly into the hot dot dog buns. Add the hot dog and top with the avocado pico de gallo and drizzle the mayonnaise on each hot dog.
Serve immediately.
Related posts